Summer's Hottest Products | Must Haves of the Season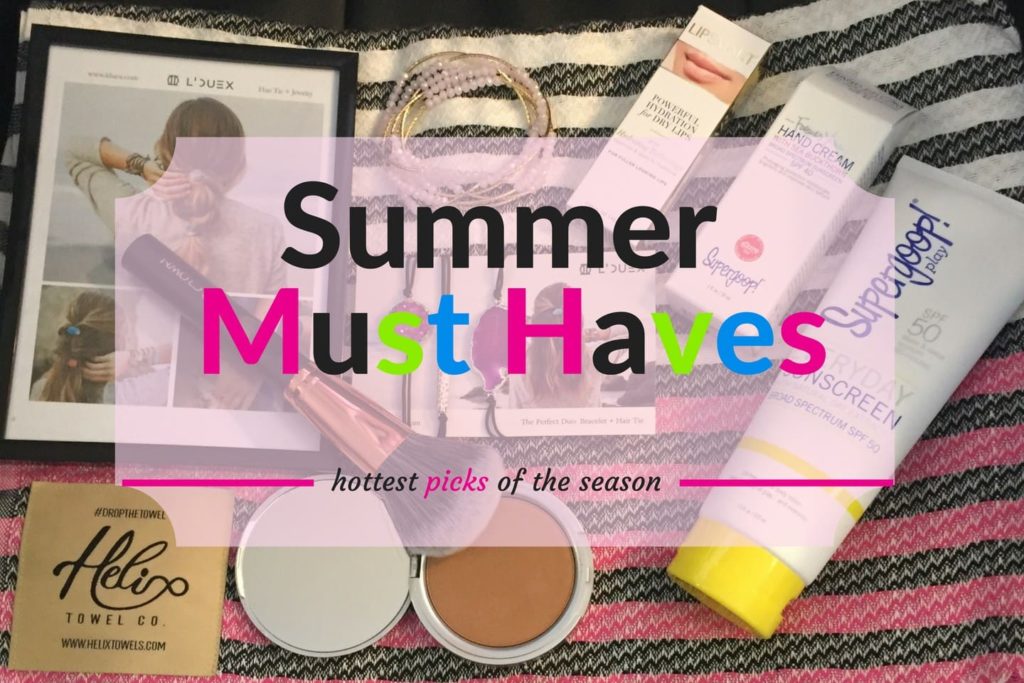 Summer HOTTEST Products From our Spa Boutique
Summer is officially here and our spa boutique coordinator, Laurie chose Summers hottest products for 2019! (literally for the hottest Florida summer ever!)
Every product was chosen for a "Summer" reason from our ever-delightful mini shopping boutique. The towel is universal – you can use for the beach or a sarong, while the sunscreen protects your delicate skin. Bronzer gives you color because you used sunscreen (right?). The hair tie allows you to whip up your hair stylishly. The Swarovski stretch bracelet is purely "beach beauty" and the LipSmart keeps your lips protected!
Summer's Hottest Products (Left to right in the photo)
Helix Towel 100% Cotton – These Turkish stylish towels should have summer written all over them with the multi-uses. From the beach to Atlantic Avenue, these towels are simply so versatile with fun colors and themes.
Bella Reina Island Bronzer – With a name like Island Bronzer and the fact that it's vegan…this summer hottest products pick gives you an Island glow. Can't make it to the spa? Shop Bella Reina online.
L'Duex Hair Tie & Bracelet – The perfect hair tie and bracelet, these adorable rock candy duos are great on the wrist and in a ponytail. The stones come in bright summer colors like turquoise, pinks and purples.
Swarovski Crystal Stretch Silver Duo – Colorful summer style with these necklaces. A vibrant rainbow of crystals, they are ideal for summer parties and makes a great gift.
LipSmart – This powerful hydration for dry, dehydrated or cracked lips is wonderful to plump, hydrate and repair lips.
SuperGoop Sunscreens – Every product made by SuperGoop rocks including the hand cream and the mineral sunscreen. The new Unseen Sunscreen is amazing too – the reason we love it is that it does not hurt the reefs!!
Want more Beauty on the Beach? Check out this article on Discover the Palm Beaches.
I've been called Nancy Reagan, the First Lady of Skin Care. And if you are old enough to remember former President Ronald Reagan, I'm also known as "NOT THAT" Nancy Reagan.
I believe strongly that the outer skin glow comes from within and that nutrition is an integral part of great skincare. Based on that philosophy, I started Bella Reina Spa, which is recognized as the Best Day Spa in North America with a team of 17 estheticians, massage therapists, and natural nail technicians. The Bella Reina website offers extensive knowledge on products, spa services, and beauty shopping, with a strong focus on vegan and cruelty-free beauty. Welcome to Bella Reina Spa! We look forward to helping you look and feel your best.