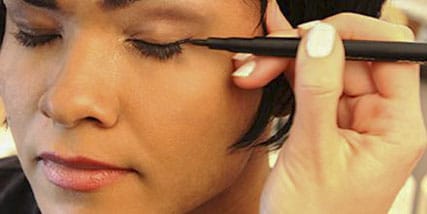 Once you are conversant with the basics, applying makeup is not as difficult as it seems. There are many tried and true tips and tricks that the experts know, get the basics down, and you'll perfect both a daytime and night time look.  Makeup done well can make heads turn; it can plump up a wrinkled face and play down under eye circles. A basic rule of thumb is to start with your face first, a flawless face means you'll need less of eye makeup nor lip color, and in makeup, less is more. Let me share some basic make up tips for applying makeup – some  you may really appreciate.
Tips for Applying Makeup
Moisturize your face first; dry skin needs to be hydrated first before wet makeup such as creamy foundations concealers are applied. When going out, after a good sunscreen, a moisturizer should be next, a rich facial balm to pump up the skin and fill in fine lines and large pores.
Brighten your face; this is essential for those with uneven skin tone. Concealers can be good complexion saver; the makeup artists' secret is to brighten the face with a highlighter.
Always apply cream products before powder to help the makeup last longer without looking 'cakey'
To save time, you can do your eyes first, since you can clean up shadow, pencil or mascara mishaps without having to touch other makeup.
Blend the eye shadow upward to help visually lift the eyes, use a darker eye shadow color in the creases.
A smidge of shimmer is nice in eye shadow as it helps the eyes pop, but you should avoid anything frosty.
The best technique for using an eyelash curler: Do a few small pumps with the curler rather than clamping down hard on your lashes.
Use an eyebrow mascara that is tinted to hold the brows in place, lift them and provide color.
For best results with mascara, wiggle the wand from side to side as you're applying it to cover the lashes from root to tip.
Before using a pencil on your eyes, brows or lips, sharpen it first, and then run it over your hand to dull the point slightly.
When applying your concealer, use your ring finger as it is the weakest.
Your powder is usually the last.
Find the right color of lipstick.
Lastly and most importantly; be confident
Speak with one of our consultants at Bella Reina Spa.
I've been called Nancy Reagan, the First Lady of Skin Care. And if you are old enough to remember former President Ronald Reagan, I'm also known as "NOT THAT" Nancy Reagan.
I believe strongly that the outer skin glow comes from within and that nutrition is an integral part of great skincare. Based on that philosophy, I started Bella Reina Spa, which is recognized as the Best Day Spa in North America with a team of 17 estheticians, massage therapists, and natural nail technicians. The Bella Reina website offers extensive knowledge on products, spa services, and beauty shopping, with a strong focus on vegan and cruelty-free beauty. Welcome to Bella Reina Spa! We look forward to helping you look and feel your best.