Spring Break Beauty Essentials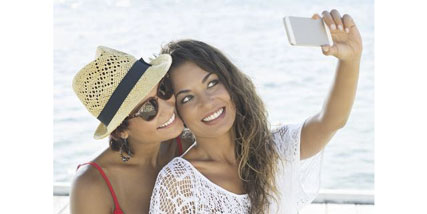 Spring Break Beauty Essentials
After a harsh winter that feels like its lasted an eternity, Spring Break is finally here! Time to trade in those plum and deep red lipsticks for something a bit more light and airy – along with that wool jacket. Time to hit the beach with a carefree spirit and some spring break beauty essentials. During this time of year, less is more. Follow our Spring Break Beauty Essentials guide and you'll soon be glowing like the sun goddess you are.
Sunscreen
When it comes to spring break beauty first things first: sunscreen. Getting a golden tan is a spring break yes, but skip the sunscreen and you'll be as red as a lobster. Make sure to use at least an SPF 25 and re-apply every two hours or after swimming. Pack our Environ Sunscreen SPF 25 and a hat. Trust us, you'll thank yourself later.
Pressed Powder
You want to radiate, not shine. Being out in the hot sun all day will cause you to sweat, including the skin on your face. Apply a pressed powder, like our Bella Reina 7 Free Vegan Mineral Powder, to fight oil and while covering blemishes for a natural, flawless look.
Bronzer
Give that sun-kissed glow a boost by adding a touch of bronzer to your cheekbones. Ecco Bella FlowerColor Vegan Bronzing Powder Sunflower will highlight your tan while nourishing skin in vegan-friendly flower wax infused minerals, aloe, vitamin E and green tea.
Waterproof Mascara
Look bright-eyed and bushy-tailed without fear of looking like a raccoon. Spring Break means sun, sand and surf, so an eye-popping mascara that's also waterproof is a must. Try our Beauty Without Cruelty Vegan Waterproof Mascara to keep lashed looking gorgeous all day.
Nail Polish
Kick off those boots and show off your toes! The only acceptable footwear for Spring Break is flip-flops and wedges. Whether you opt for polish that's bright and tropical or pale and breezy, give your nails a pop of color. Our top choices for spring break are Bella Reina 7 Free Vegan Nail Lacquer Polish in On Vacation.
Lavender Essential Oil
Leave the heavy perfumes at home and opt for something lighter. Lavender Essential Oil by Bella Reina is 100% organic and the perfect scent for spring time. Dot it on your wrists and neck to stay smelling fresh. Plus, lavender oil is loaded with aromatherapy benefits to revitalize not only your mood, but also the mood of everyone around you! Let's see your normal perfume do that.
Lipgloss
Don't forget to keep you lips moisturized. Kanebo Mode Gloss Lip Gloss Lipstickkeeps lips moisturized with vitamin E and provides just a hint of color.
Skin Revitalizer
A day basking in the sun, sand and sea spray may be paradise but not without doing quite a number on your skin. It's important to pamper it every night and put back any moisture lost during the day. Use Nancy Regan Skincare Rose Rosehip Argan Oil, made with 100% Pure Argan Oil and antioxidants to nourish skin at its deepest level and promote healthy cell renewal. Use it in the morning and at night to fight wrinkle-causing damage to keep you a Spring Break Beauty 24 hours a day.
I've been called Nancy Reagan, the First Lady of Skin Care. And if you are old enough to remember former President Ronald Reagan, I'm also known as "NOT THAT" Nancy Reagan.
I believe strongly that the outer skin glow comes from within and that nutrition is an integral part of great skincare. Based on that philosophy, I started Bella Reina Spa, which is recognized as the Best Day Spa in North America with a team of 17 estheticians, massage therapists, and natural nail technicians. The Bella Reina website offers extensive knowledge on products, spa services, and beauty shopping, with a strong focus on vegan and cruelty-free beauty. Welcome to Bella Reina Spa! We look forward to helping you look and feel your best.