Best Contouring Makeup for Beginners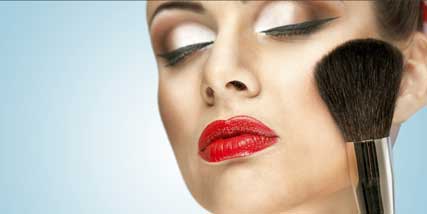 Contouring Makeup is for special occasions, but what is an easy way for a beginner? We can thank Kim Kardashian for our contouring craziness. She has us all rushing to create the chiseled, highlighted features. But why is contouring so big and how can a beginner contour easily?
The #1 reason contouring makeup is big is the way it uses lights and darks to create chiseled features. It can transform a nose, a forehead, cheekbones or chins into features ready for any magazine cover photoshoot. The ability to easily shadow the nose or highlight under the eye transforms anyone's face. Yes, believe it!
With contouring makeup rage on high gear, there are thousands of videos giving advice and recommendations. In fact, we even have a video below that demos contouring and highlighting. Most of the products demonstrated require a great deal of skin, constant blending and specialty sponges.
Most of us, yes maybe 95% of us don't have the time or won't take the time to contour and highlight. But just the mere idea of transforming our features to make us more "selfie-genic" is enough to make us want to try.
Instructions
Ready to master the art of contouring makeup? Take this 1  product for a road test and check out the video below to see how to easy it is to use the Bella Reina Foundation Concealer Pen.
Bella Reina Concealer Pen, $21.95 makes creating those triangles of highlights and darkness to much easier.  It's like quickly painting on the highlights. This pen is such a timesaver as you can see in the video. Simply prime your pen with a couple of clicks, then start placing your highlights. Use the dark Concealer Pen for creating the chisels.  You paint on and blend with the all in one brush. So fast, you can do this right after work and you will look "evening-ready" in seconds!
I've been called Nancy Reagan, the First Lady of Skin Care. And if you are old enough to remember former President Ronald Reagan, I'm also known as "NOT THAT" Nancy Reagan.
I believe strongly that the outer skin glow comes from within and that nutrition is an integral part of great skincare. Based on that philosophy, I started Bella Reina Spa, which is recognized as the Best Day Spa in North America with a team of 17 estheticians, massage therapists, and natural nail technicians. The Bella Reina website offers extensive knowledge on products, spa services, and beauty shopping, with a strong focus on vegan and cruelty-free beauty. Welcome to Bella Reina Spa! We look forward to helping you look and feel your best.