Lean in close, because we are about to share surprising facts about Ceramides. Few people actually know what ceramides are! Maybe you've come across the word in the ingredients label on your serum or moisturizer. This mysterious ingredient, however, is extremely beneficial for the skin, and it will give you a fabulous glow!
What Are Ceramides?
Ceramides are lipids that form 50% of the skin's barrier and help the skin retain moisture. Ceramides also determine how the skin protects itself against environmental threats like pollution. Without ceramides, the skin's barrier may be susceptible to these threats and become itchy, and irritated. Ceramides are very important overall to maintain the skin's health.
What skin types can use Ceramides?
The fabulous thing about ceramides is that they can be used by any skin type! Even the most sensitive skin types and oily, acne-prone skin can use ceramides. Ceramides are also safe to use around the eyes, as long as the product is fragrance-free! Ceramides are also beneficial for mature skin, to replenish skin's ceramides. They can also be extremely beneficial for those looking for anti-aging products, to maintain skin's healthy, youthful glow. They can be used at any age! There are also studies conducted on the benefits of ceramides for certain skin conditions such as eczema and psoriasis.
What are the benefits of Ceramides on the skin?
Ceramides are used to repair, and protect the skin from pollution and other irritants found in the environment. They are essential when it comes to skin hydration.
Ceramides are also beneficial for mature skin. As a result of hormonal changes, dry skin is common in menopausal and perimenopausal skin.  Ceramides can help the skin retain more moisture, therefore allowing the skin to be more hydrated. This helps with wrinkles and the appearance of fine lines.
Ceramides can also help with other skin conditions such as psoriasis, and eczema. Ceramides help soothe irritation caused by these conditions and help the skin's barrier regenerate, as well as retain moisture again.
Ceramides in general are great to incorporate into your skincare routine, no matter your age or your skin type, not only to prevent signs of aging but also, to make sure your skin is always hydrated. Hydrated skin = skin health!
If Ceramides are found naturally on the skin, why should I include them in my skincare routine?
While ceramides are found naturally in the skin, they might be depleted over time when exposed to certain factors, including hot water (this is why you should NEVER wash your face with hot water!), sun, and age, among other factors. It's important to incorporate ceramides into your skincare routine to counterbalance the depletion of ceramides so that the skin can be restored, and for the skin to be able to retain moisture.
Where do Ceramides Come From?
Ceramides can be made out of plants, synthetically made, or from animals. It's very important to know the source prior to purchasing. It's better to use ceramides derived from plants, as animal ceramides have the potential to carry viruses. When they are from olive oils or brown rice, they can quickly penetrate the skin.
What products contain ceramides?
Ceramides are most often found in moisturizers or serums, but they can also be found in cleansers and toners. However, it's recommended to use them in serums, moisturizers, essence, or toners. With cleansers, ceramides can just be washed away, and not be properly absorbed by the skin. They are most effective when packaged properly, such as in containers with a pump, and are most often found in liquid forms, such as serums.
When choosing the right ceramide product for your skin, the process is similar to choosing the right serum or moisturizer. For people in need of more hydration, a cream containing ceramides works best. For individuals with oily skin, or acne-prone skin, a lighter serum-containing ceramides would work best.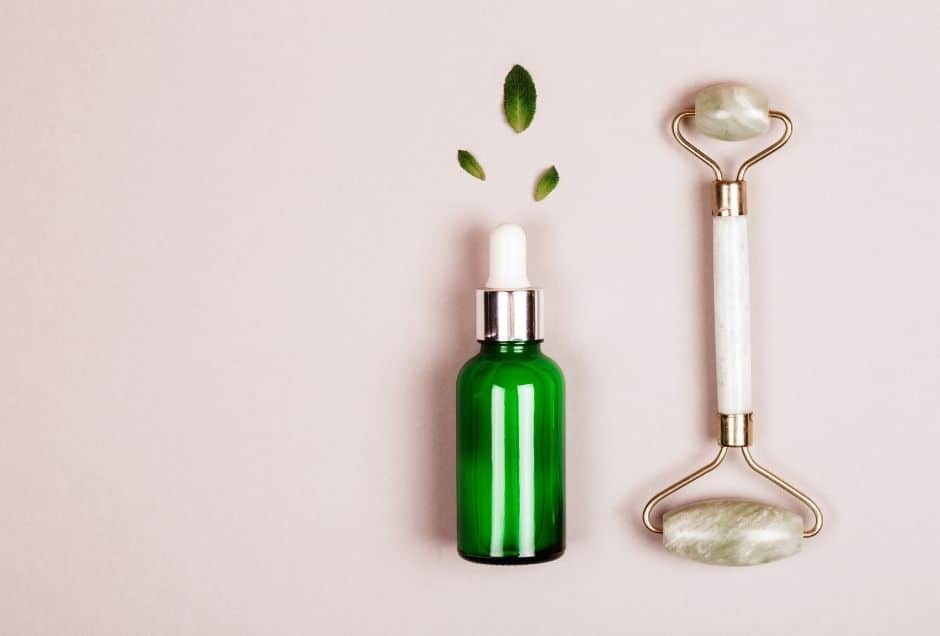 What skin conditions benefit from Ceramides?
Ceramides work for all skin types because they are naturally found in the skin. However, for those suffering from dryness, and in need of hydration, ceramides can work wonders.
Certain skin conditions such as eczema, rosacea, and psoriasis can cause damage to the skin's barrier. This makes it hard for the skin to not only retain moisture but also its ability to protect against harmful environmental factors. Ceramides help repair the skin's barrier, and therefore, they help the skin have the ability to retain moisture again.
Acne-prone skin can also benefit from ceramides. Those with acne-prone skin can benefit from skincare products containing ceramides because their skin has been shown to lack ceramides.
Menopausal skin also benefits significantly from ceramides. During menopause, the skin loses hydration, which leads to the appearance of fine lines and wrinkles. Ceramides can help menopausal skin maintain hydration, and minimize the appearance of fine lines and wrinkles. For those also looking for an anti-aging skincare routine, ceramides are great for preventing the appearance of fine lines and wrinkles and preventing premature aging.
How do I know if a product contains ceramides?
Check the product ingredient label. They can be labeled as ceramide AP, EOP, or NG for example. Although there are different types of ceramides, they all have a similar effect on the skin. Ceramides are most effective when paired with fatty acids, glycerin, and cholesterol. Your skin needs fat to be protected from environmental irritants and to prevent dehydration, irritation, and signs of aging (fine lines, wrinkles). Look for serums that contain ceramides and cholesterol, glycerin, or fatty acids for the best results! It's basically a fountain of youth.
Should I exfoliate before applying a ceramide serum?
It's beneficial to exfoliate the skin, for your skin to fully absorb the products, and reap the maximum benefits of your skincare routine. Exfoliation removes the layer of dead skin cells that results from your skin repairing itself and shedding old skin. However, you should never over-exfoliate. Exfoliate after the skin has been cleansed, and before your toner. This will help the skin be glowing, and be able to fully benefit from your skincare.
In what order should I apply my skincare products?
For your daytime routine, the cleanser should always be the first step of a great skincare routine, followed by a toner. After the toner, you can apply a serum, then eye cream, moisturizer, and finally, sunscreen.
For your nighttime routine, makeup should be removed first with either a balm or oil-based cleanser. Then, cleanser, followed by a toner, and eye cream. Then, apply any treatments, such as peels, serums, acne treatments, or retinol. Finally, apply moisturizer or night cream.
When should I apply a ceramide serum?
The ceramide serum should be applied after cleanser and toner, and before moisturizer. Exfoliating once a week is also beneficial for better absorption of the product in the skin. Exfoliate after cleanser, and before toner in your skincare routine. Ceramides can be applied twice a day, in the morning, and evening.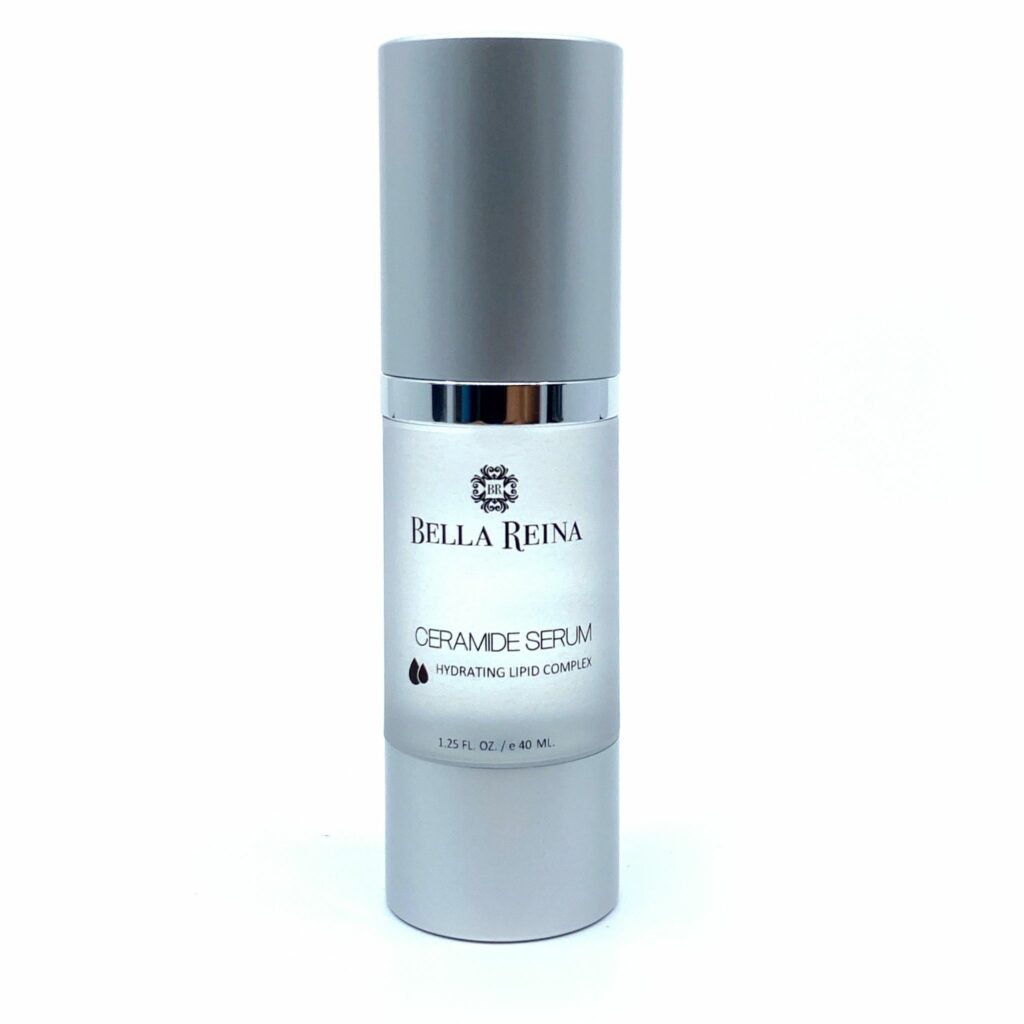 Bella Reina Flawless Drops
At Bella Reina Spa, we have formulated a ceramide serum, to help the skin retain moisture, protect the skin from environmental threats, and act as an anti-aging serum. We have also included cholesterol in our formula. An effective ceramide serum should always contain cholesterol, fatty acid, or glycerin. Ceramides are lipids, which means they are a type of fatty protein. For ceramides to work properly in maintaining a youthful glow, by plumping the skin and preventing fine lines and wrinkles.