Christmas in July Is Just Another Great Reason to Shop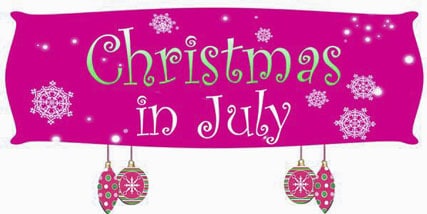 Christmas in July has always been a fun reason to have a party or celebrate in the middle of summer. Not only is Christmas a holiday, but it also brings family, friends, and festivities together- just like many holidays. For many reasons, the holidays around December including Hanukkah bring warm fuzzy feelings of laughter, fun, and celebration. One of the best displays of Christmas comes from a pinner, Amy Flanigan, who has a whole Pinterest board dedicated to the July celebration.
Christmas in July was actually a movie from the 1940s based on an unemployed man winning a radio contest.  He then goes on a shopping spree after believing he won the contest. You'll have to check it out on TNT. Celebrating this festive time in July seems like either a great reason to party in the summer or a great reason to save money when you shop.
There lies our fun for July with Christmas in July Shopping Spree where you can save 10% off gifts this week.  Here are just a few Christmas ideas that will give you a head start on your holiday list.
Gifts Under $20 for Christmas in July
Love our Gift Cards.
Yes, we are biased, but the Bella Reina Neck Wrapper is loved by so many.  Clients wear them when they have pedicures or manicures plus they are awesome when you are having a massage to warm up your neck.  This gift is also under $20.
Another all-time favorite is Poo-Pourri Original Bathroom Spray.  This product just sets off the giggles. It's fun, whimsical and makes light of a "not-so-serious".  Clients, especially our southern girls, just love Poo-Pourri. They come back to buy 4 or 5 for every bathroom in the house and just giggle that they tested it on their husbands.  Also under $20!
Lastly, if you want to enter a contest like the 1940's movie, check out one of our Bella Reina Twitter or Facebook Sweepstakes contests. We will have another one coming along soon so your Christmas in July can be a reality! Would you like to win a $100 shopping spree??
I've been called Nancy Reagan, the First Lady of Skin Care. And if you are old enough to remember former President Ronald Reagan, I'm also known as "NOT THAT" Nancy Reagan.
I believe strongly that the outer skin glow comes from within and that nutrition is an integral part of great skincare. Based on that philosophy, I started Bella Reina Spa, which is recognized as the Best Day Spa in North America with a team of 17 estheticians, massage therapists, and natural nail technicians. The Bella Reina website offers extensive knowledge on products, spa services, and beauty shopping, with a strong focus on vegan and cruelty-free beauty. Welcome to Bella Reina Spa! We look forward to helping you look and feel your best.