Shopify Picks Bella Reina Spa To Celebrate 100,000 and Tweets us!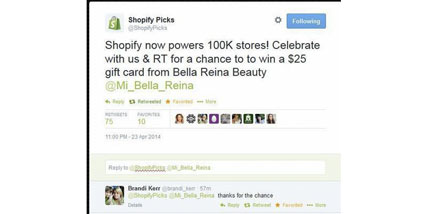 Imagine our surprise today when at Bella Reina Spa we received a letter from none other than the founder of Shopify!  We were thrilled to know that we are store number 88,843 using Shopify, but even more thrilled when they tweeted us out to their followers.
Shopify now powers 100K stores! Celebrate with us & RT for a chance to to win a $25 gift card from Bella Reina Spa.

— Shopify Picks (@ShopifyPicks) April 24, 2014
Here's a copy of the email from Shopify founder Tobi.
We just crossed a major milestone – 100,000 businesses now use Shopify to power their stores.

I want to thank Bella Reina – Online Beauty & Health Shop for being store number 88,843 using Shopify.

You might not realize this, but the first Shopify store was my own. Almost a decade ago, I wanted to sell snowboards online. The options for shopping carts were either really expensive, or painfully complicated. Eventually this frustration was channeled into creating Shopify. We set out on a mission: to make ecommerce easier and more affordable, so that anyone could start their own online store.

In the years since, I've witnessed thousands of people accomplish life-long dreams of growing their own successful business, and nothing makes me happier. I love seeing all of the incredible things people do with our platform – whether it's an online shop, at a physical retail store, or even just accepting payments using their mobile phone.

The trust that our merchants place in us is really humbling, and you can be sure that we will continue to work hard to make Shopify even better.

Thank you for being a part of the Shopify community.

Tobi Lütke  Founder, Shopify @Tobi
And a big thank you to you, Shopify.  We love working with you and your team.  You have made the labor part of creating our store so much easier.  Just to let you know, we worked with two other vendors before arriving at your website.  It is your humble leadership and attention to detail that will ensure that we will always be a part of the Shopify community.
I've been called Nancy Reagan, the First Lady of Skin Care. And if you are old enough to remember former President Ronald Reagan, I'm also known as "NOT THAT" Nancy Reagan.
I believe strongly that the outer skin glow comes from within and that nutrition is an integral part of great skincare. Based on that philosophy, I started Bella Reina Spa, which is recognized as the Best Day Spa in North America with a team of 17 estheticians, massage therapists, and natural nail technicians. The Bella Reina website offers extensive knowledge on products, spa services, and beauty shopping, with a strong focus on vegan and cruelty-free beauty. Welcome to Bella Reina Spa! We look forward to helping you look and feel your best.