As we approach another Black Friday, the age-old dilemma resurfaces: finding the perfect gifts amid the shopping chaos. But fear not, we are here to guide you on a journey into a world of beauty, relaxation, and self-care. At Bella Reina Spa, we know that the ideal gift is not merely an item; it's an experience. Join me as we delve into "Black Friday Spa Gift Cards and Skincare Products," each promising not just beauty, but moments of pure indulgence and rejuvenation.
Black Friday Benefits for Spa Gift Cards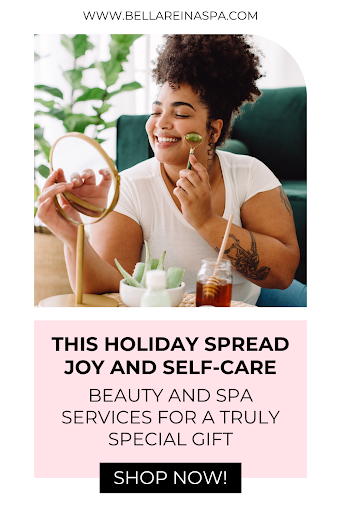 The Gift of Serenity
In a world often teeming with chaos, spa gift cards offer the gift of serenity. They serve as a refuge from the daily frenzy, providing peace and relaxation. Picture this: Black Friday deals on skincare products and spa gift cards bring this serene escape within reach for your loved ones. Amid the Black Friday whirlwind, envision gifting the essence of tranquility. 
Personalized Beauty Solutions
Navigating the expansive world of skincare and beauty can be overwhelming. Spa gift cards empower the recipient with tailored beauty solutions that cater to their unique needs. Thanks to Black Friday discounts on spa gift cards, you can grant your loved ones access to professional skincare consultations, facials, or massages that precisely address their beauty concerns and aspirations.
Expert Guidance
While the internet abounds with DIY beauty hacks, nothing surpasses the wisdom of licensed skincare professionals. Spa gift cards open the gateway to these experts, providing guidance and treatments of the utmost quality. Black Friday emerges as the perfect moment to make these expert services affordable. By gifting spa gift cards, you ensure your loved ones are in the hands of professionals who employ safe, high-quality products.
Black Friday Benefits for Skincare Products

Premium Products at a Discount
Black Friday is renowned for its incredible discounts, and skincare products are no exception. It's your golden opportunity to stock up on premium skincare items at a fraction of their regular cost. Embrace the chance to invest in high-quality products meticulously designed to address specific skin concerns. From rejuvenating anti-aging serums to deeply hydrating moisturizers, Black Friday opens the door to enhancing your skincare regimen.
Gifting Beauty 
While Black Friday often centers around personal purchases, let's not forget the joy of gifting beauty itself. Skincare products make exceptional presents, conveying your genuine care for your loved ones' well-being. Whether it's a lavish moisturizer, a revitalizing mask (which makes for a great stocking stuffer), or specialized ceramide serum, skincare products can be thoughtful gifts that enrich the recipient's daily self-care routine.
Revamp Your Beauty Routine 
The transition from one season to the next often necessitates a revamp of your skincare routine. Black Friday presents the ideal moment to explore new products and adapt your beauty regimen to meet the evolving needs of your skin. Delve into the realm of cutting-edge skincare innovations and embark on a journey toward healthier, more radiant skin with products like the microdermabrasion scrub.
Conclusion
This Black Friday, cast aside the frenetic pace of crowded stores and online shopping for mere material possessions. Embrace the art of giving the gift of wellness, relaxation, and self-care with spa gift cards and skincare products. By seizing the Black Friday deals, you make these gifts accessible, granting your friends and family the privilege of experiencing personalized beauty solutions, the wisdom of professionals, and moments of pure indulgence. Bid adieu to the chaos of Black Friday shopping and say hello to a realm of beauty and rejuvenation. On Black Friday, seek out spa gift cards and skincare products and bestow the gifts of beauty, serenity, and well-being.