Discover the secret to skin that's plump, hydrated, and absolutely radiant with Bella Reina's fabulous Ceramide Serum with Lipids! This game-changing potion brings together science and luxury to give you a truly divine skin-plumping glow.
Say goodbye to dull, lackluster skin and hello to a luminous, youthful glow. Our serum is packed with potent ceramides and lipids, designed to nourish and replenish your skin's natural moisture barrier. It's like a sip of water for your thirsty skin!
With every drop, you'll feel like you're treating your skin to a luxurious spa day. Indulge in the silky-smooth texture that effortlessly glides on, leaving your skin feeling baby-soft and velvety smooth. Plus, our serum is formulated to absorb quickly, so you can get on with your day without any greasy residue.
But that's not all – we've added a dash of wit and fun to make your skincare routine a delightful experience. Our serum is so fabulous, it practically does a happy dance on your skin! You'll love how it effortlessly plumps up your complexion, giving you that enviable "I woke up like this" glow.
WHY You'll LOVE THIS
A moisturizing lipid serum that acts like the skin's own natural lipid barrier.
Formulated with sphingolipids and ceramides to increase moisture with no greasy residue.
Tips & Benefits:
Puts the moisture lost as we age, back into your skin naturally.
Diminishes the appearance of fine lines and wrinkle immediately.
Increases the moisture binding properties of skin.
Helps repair the upper layers of the skin.
Skin Types
Normal.
Dry/Dehydrated
Combo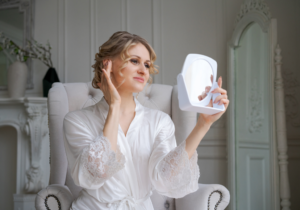 Welcome, beauty enthusiasts and skincare aficionados, to the Bella Reina Beauty Bonanza! Join me as we embark on an exciting journey through the world of Bella Reina's premier skincare products, carefully crafted to unveil your inner radiance.  If you're on a quest for timeless beauty and age-defying brilliance, you've come to the right place. Bella […]