3 Tips to Choose the Best Eyebrow Pencil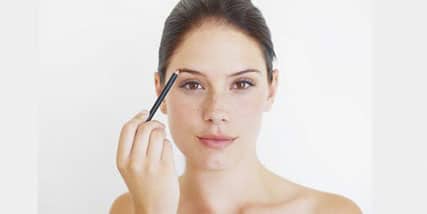 When you are trying to choose the best eyebrow pencil, what should you look for? Doing your eyebrows is an absolute must to pull your look together. And it's not always just about color. Some women have sparse eyebrows and want them to appear fuller. Some women want to alter the shape of their brows so they better flatter the face. How do you pick the right one for you?
3 Tips to Choose the Best Eyebrow Pencil
Tip #1:
The Right Color is the Queen Color can be a bit tricky. You should generally stick to a color close to your hair color, but no more than a shade darker. Preferably a shade lighter is actually better.
For redheads, this can be tricky as most companies don't offer a red or an auburn eyebrow color. If you look at most redheads (I have 3 sisters that are redheads), most have blonde or brown eyebrows. Redheads can either go with a light brown, medium brown, or auburn. Keep in mind that you can make your brows darker just by increasing pressure on the pencil when applying.
If you have very dark or black hair, you might not want a harsh black for your brows. You can go a shade or two lighter to keep the look of the brows soft while still shaping and filling in.
If you have light eyebrows you can go a shade or two darker than your natural brow color, especially if you also have light hair. You should also take into account your skin tone.
If you're very fair, you might want to keep the brow color only, one shade darker than your natural brow color otherwise they could be too harsh. When choosing the best eyebrow pencil for you, pick a shade that compliments both your hair color and skin tone.
Tip #2:
 Softness of the Pencil The harder the pencil, the harsher the line will be on the brow. The softer pencils allow the wax to coat the brow hair. This looks more natural than a severe line drawn on the skin. The harder pencils can break easily. The real reason for a softer pencil is control and the darkness of the line. Natural eyebrows win. It also seems that the best eyebrow pencil is always softer.
Tip #3:
 Waterproof or Not When choosing a brow pencil, waterproof is probably the best way to go. A waterproof eyebrow pencil seems to be creamier than than the non-waterproof.  Additionally, they last longer. If you live in a warmer climate waterproof is a must, because of the humidity.  Waterproof will never run and will always stay in place. Waterproof we think makes for the best eyebrow pencil.
Pencils vs. Powders
Just had to weigh in on our preference for pencils. Pencils,  in general, last longer than powders and are more portable. They're also quick and easy to use if you have only so much time in the morning for makeup. The best eyebrow pencil seems to provide a more natural look as well as some pencils provide conditioning for your brows.
Before you apply an eyebrow pencil, make sure that your brows have been groomed and any stray hairs removed. Pay attention to the space between your brows. If your brows are a bit bushy, you can trim them with small scissors. Brush the brows down to trim. Make sure the tip of the pencil has been sharpened, but not too sharp. Just an Bella eyebrow pencil tip -the automatic liners don't need sharpening. Begin applying pencil from the inner part of the brow using short, light strokes. This keeps the color looking natural. Move the tip of the pencil in a slightly upward direction and follow the natural line of your brow bone. Keep the pressure light so you don't end up with a harsh line. If you want the color to be a bit darker, you can go back and apply a bit more pressure until you have reached the ideal shade. Brush one last time to even out the color.
Choosing the best eyebrow pencil can be a breeze, but the natural makeup application with a waterproof pencil can make it stay on all day and through the #bellaTGIF night!
I've been called Nancy Reagan, the First Lady of Skin Care. And if you are old enough to remember former President Ronald Reagan, I'm also known as "NOT THAT" Nancy Reagan.
I believe strongly that the outer skin glow comes from within and that nutrition is an integral part of great skincare. Based on that philosophy, I started Bella Reina Spa, which is recognized as the Best Day Spa in North America with a team of 17 estheticians, massage therapists, and natural nail technicians. The Bella Reina website offers extensive knowledge on products, spa services, and beauty shopping, with a strong focus on vegan and cruelty-free beauty. Welcome to Bella Reina Spa! We look forward to helping you look and feel your best.