WHY You'll LOVE THIS
Your go-to no-makeup makeup is here!
We've bundled your everyday makeup essentials!
Perfect to keep your skin hydrated and protected and your lips hydrated and with a pop of color!
Supergoop Glow Screen Sunscreen:
The perfect multi-tasking product!
With broad-spectrum, SPF 40 protection the Glow Screen will keep your skin safe from the sun.
It also contains active ingredients to keep your skin ultra-hydrated and pearlescent finish for a beautiful dewy finish.
Has a light tint to it, and can be used by all skin types.
Great for your skin, and for the environment due to its clean, cruelty-free formula.
Jane Iredale Beyond Matte Lip Stain:
This Lip Stain has a beautiful semi-mate finish.
Your lips will be conditioned
Comes in a variety of beautiful colors.
Long-lasting, hydrating, and formulated with clean ingredients.
Wheat-free, vegan, and cruelty-free.
Tips & Benefits: 
Clean makeup formulated with high-quality active ingredients.
Perfect for a natural makeup look when you're on the go.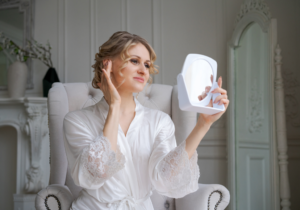 Welcome, beauty enthusiasts and skincare aficionados, to the Bella Reina Beauty Bonanza! Join me as we embark on an exciting journey through the world of Bella Reina's premier skincare products, carefully crafted to unveil your inner radiance.  If you're on a quest for timeless beauty and age-defying brilliance, you've come to the right place. Bella […]