One day you look in the mirror and what stares back is not the real you. It's an imposter!
Who is that person? And what have they done with your skin?
Not to worry. You can truly look amazing in 5 days! 
What is Perimenopause or Menopause Doing to Our Skin?
It's a well-known fact that the average age of menopause occurs between 45-60, with a ramp-up time in the 40's. The hormones that give women fabulous skin in youth start declining around this age.
And if the woman is affected by environmental factors like the sun or has lived in a super dry climate, the skin aging is a little more extreme.
Weird things start happening to the body with hot flashes, reddening of the face, sleep problems just to name a few. There are pigmentation changes, dry skin, scaly areas, rashes, acne, not to mention loose skin and wrinkles.
Studies on estrogen and the skin in PubMed show that skin thickness is reduced as well as collagen. In fact, if you do nothing, you can expect to lose up to 30% of your collagen after the first five years following menopause.
What are the Effects of Menopause on the Skin?
The following are the major effects of menopause on the skin. And every day it seems like there is a new sign.
Pigmentation, Age Spots, and Sun Damage
Dry Skin and Dehydration
Unwanted Facial Hair
Wrinkles and Loss of Elasticity
Pimples and Acne
Rashes and Sensitive Skin
Skin Thins and Bruises Easily
Everyone can experience any one of these, but with proper nutrition, lifestyle, and skincare regimen, your skin can look truly fabulous at any age.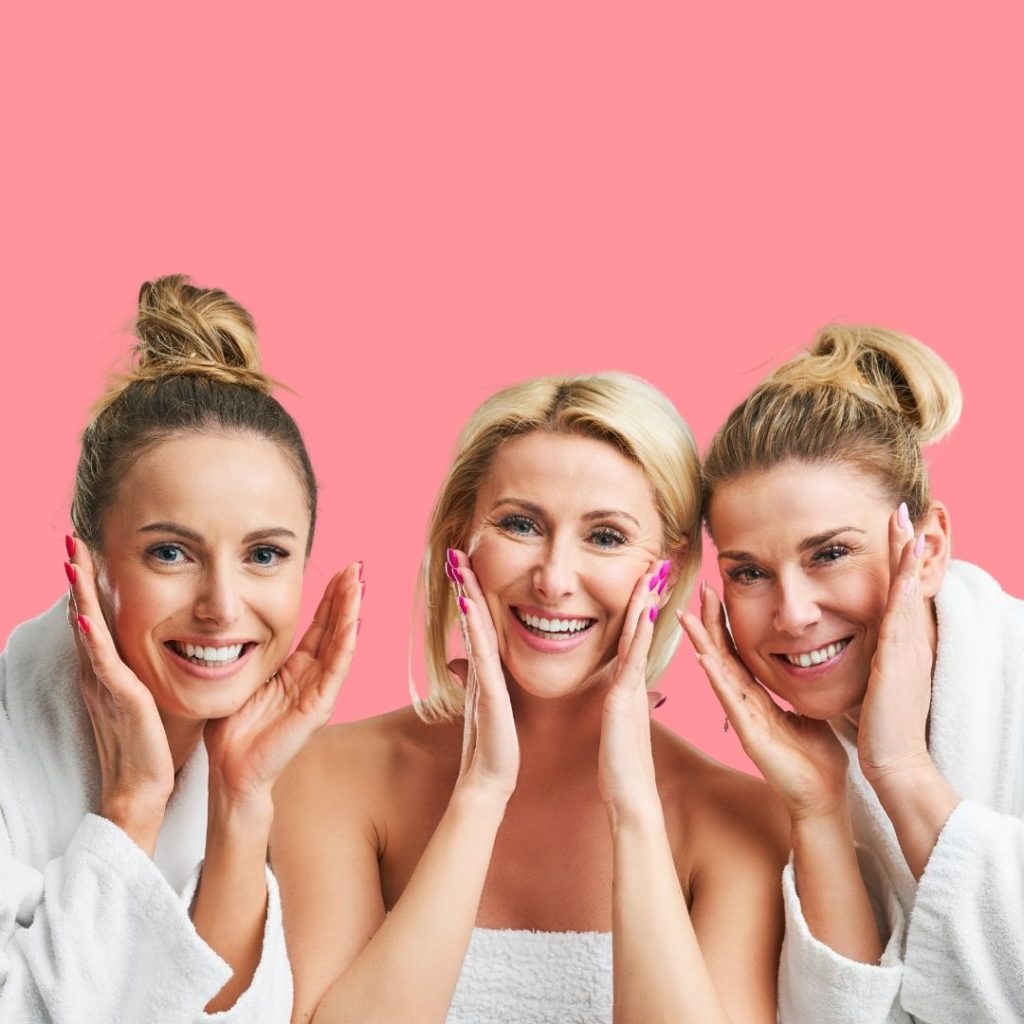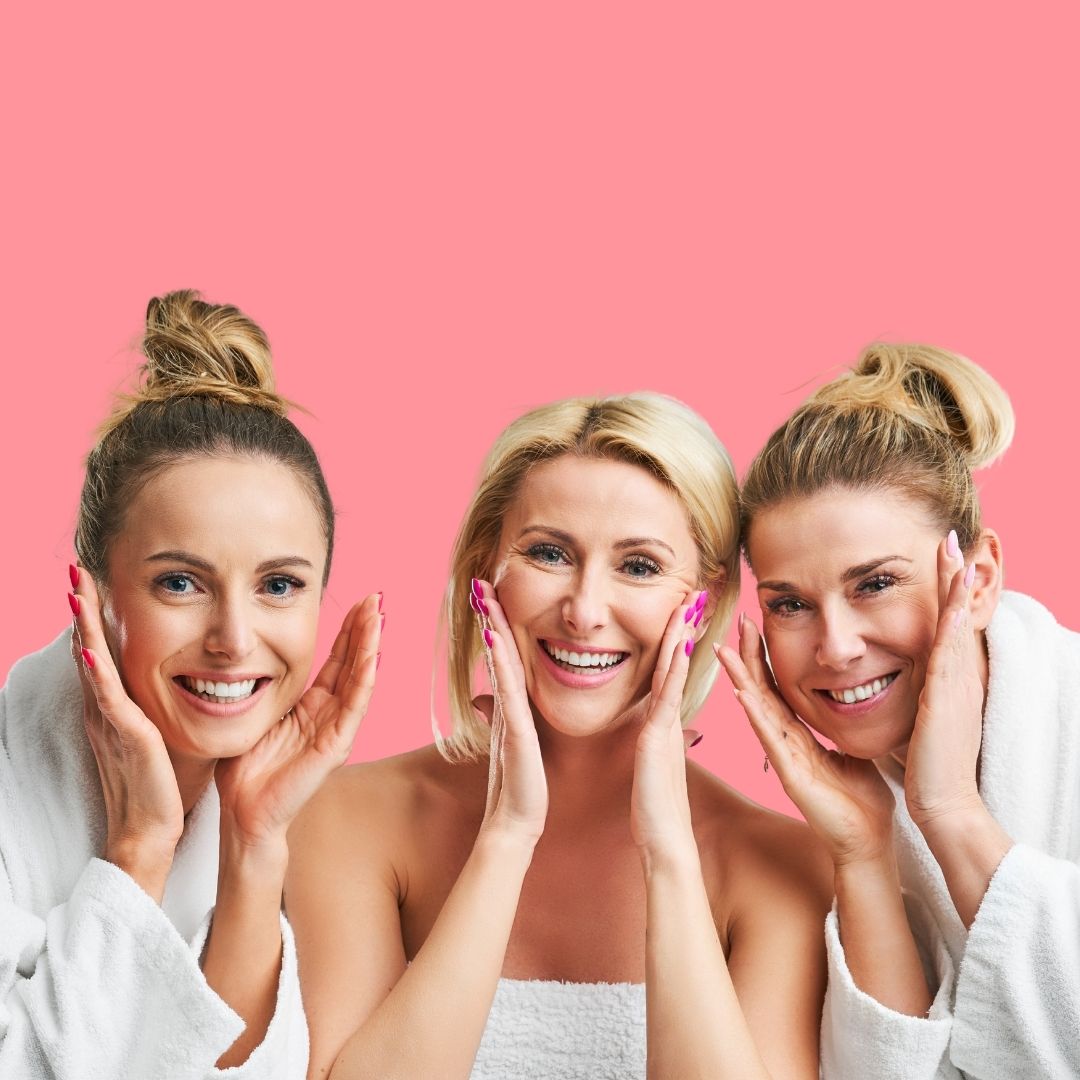 How to Save your Skin from Menopause or Perimenopause in 5 Days!
START HERE>> Beautiful skin starts from the inside to the outside. Seriously, the skin is the body's largest organ, and it is also the body's largest trash can. So when you eat sugar, chemicals, and garbage food, your skin will look dull, mottled, and congested. Ditto with lots of alcohol, soft drinks, and energy drinks. Think alkaline foods and lots of fish oil to put the lipids back into the skin.
Stop Sugar Aging: Eliminate sugar and anything not made from whole foods from your diet. Feed your body (and your skin) with superfoods and wholesome ingredients to look radiant, glowing, and feel (and look!) great inside out!
Hydration is also key! One of the biggest changes women experience during menopause is dryness. With the loss of hydration, it's important to drink water, and to use moisturizers, and super serums, preferably containing hyaluronic acid, as well as glycerin. Apply serums and moisturizer often, when the skin feels dry. Bella Reina is a big fan of moisturizer cocktails packed with ceramides to help your skin cope with menopausal dehydration.
SPF is your BFF! During menopause, the skin not only loses hydration, but it also becomes thinner. This can cause the skin to bruise easier. Incorporating SPF into your skincare routine is vital to avoid damage to the skin, and help prevent dark spots, skin cancer, and reduces the appearance of wrinkles. SPF should be 30+.
Collagen Boosting Aesthetic Treatments: There are many targeted skincare treatments that can have your skin looking simply amazing in 5 days. At Bella Reina, owner, Nancy Reagan recommends nano-needling to boost collagen for menopausal skin that is thin with loss of volume. Other options for firming and lifting include microcurrent with plasma fusion and ultrasound.
For longer lasting options, treatments include microneedling or HIFU,  a treatment that firms and tightens skin by using ultrasound energy.
For more information on menopausal skin or for a free skincare consultation, call 561-404-7670 and mention Natural Awakenings for a complimentary skin care starter kit with any treatment plan. Bella Reina Spa, 815 George Bush Blvd, Delray Beach, FL