Eyeliner Styles That Never Go Out of Style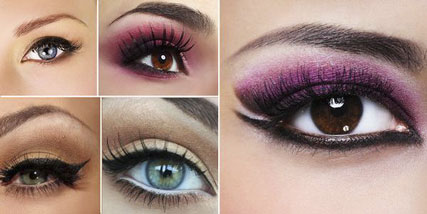 Popular eyeliner styles come and go, but eyeliner is an important part of your makeup routine. Eyeliner is used to define the eye, make your lashes appear fuller and longer. It can be used to create various effects using the contours of your eye. It comes in a variety of colors for a variety of looks. Whether you're looking for a natural daytime look or a more striking look for evening, eyeliner styles are available for every look. Eyeliner is probably one of the most versatile tools in your makeup bag, whether it's a pencil, liquid, gel or cream, or shadow and the possibilities are endless.
Eyeliner Styles
Simple Eyeliner – The simplest way to wear eyeliner is across the top of your lash line. Pull your lid taut and draw your liner from the inside corner to the outside. Wiggle your first coat so that you deposit the color between your lashes. Go over the line a second time, making it as thick or thin as you like. You can then take a brush or smudging tip and smudge the line to soften it.
Waterline Eyeliner – After a late night out with friends or working, your eyes may appear tired-looking. To brighten eyes that look tired, use a beige color on your waterline. Pull down your lower lash so you don't poke yourself in the eye and line.
Under Eye Eyeliner – An easy way to make a bold statement is to line your lower lashes. Choose a bright or contrasting color and line your eyes from the inner corner to the outer. You can smudge this line so it doesn't appear so harsh, if you choose. A long-wearing liner is best for this application as blinking can cause color to fade.
Rim Eyeliner – 

Give natural definition to your eyes by lining the upper inner rim. This gives your lashes a fuller look. Be sure to use a long-wearing or waterproof pencil to prevent fading as this is just like lining your waterline.

Smoky Eyeliner – 

For an easy and quick smoky eye, line upper and lower lash lines with the same shade and then line waterline. Connect color at the outer corners of your eye and then smudge the outer lines to soften. 

Winged Eyeliner –

For a bold look, a winged tip at the outer corner of your eye is the way to go. You want to use a smudge-proof liner because this look requires definition or it can end up a smudgy mess. Line your eyes from the inner to outer corners of your eyes, then angle the liner approximately forty-five degrees, taking into account the natural shape of your eye.  

For close-set or more rounded eyes, line your upper lash line, pulling the line straight out to extend the corner. Next, line only the bottom third of your eye in the same color, joining the corners. This will elongate your eyes and make them appear wider apart. For more on the winged eyeliner look.
Cat Eyeliner – 

The cat eye is another bold look similar to the wing, although the angle is not as severe. Line your upper lash line and draw the end from the corner with a slight uplift. Line the lower lash line and join the corners. You can use a thinker line along the bottom lash. 
As you can see, eyeliner styles are as popular as fashion styles. Don't be afraid to experiment with color, line width or the types of eyeliners. That's what makes eyeliners so #bellaglam!