Winter Beauty Preview Launches with Dr. Grandel Ampoule Calendar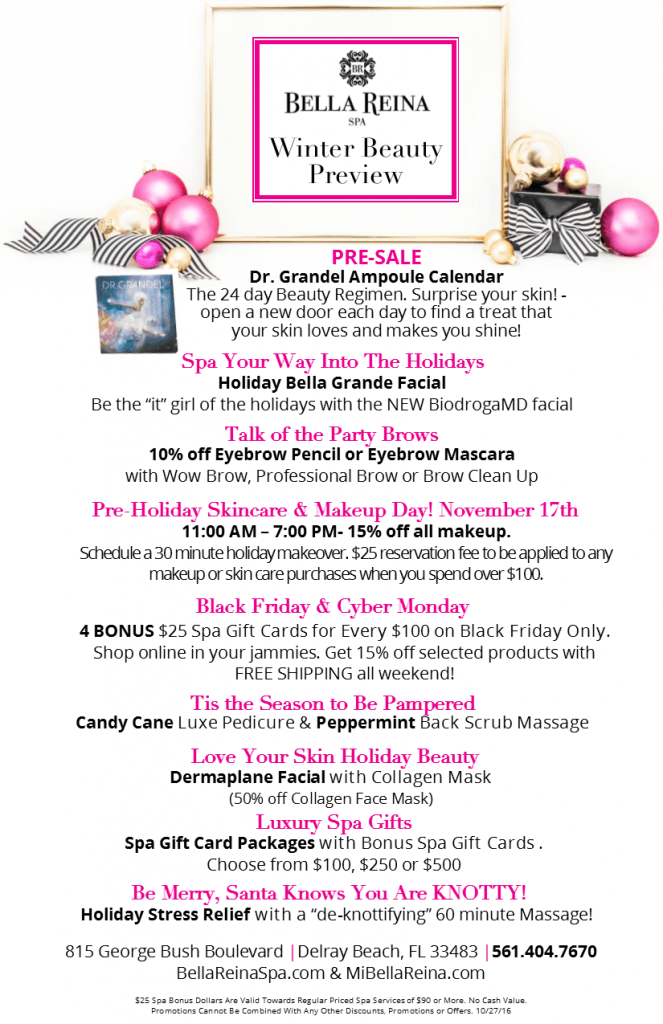 Today, Bella Reina launches our Winter Beauty Preview with 8 fabulous weeks of specials. We are heading nose-first into the holidays. Follow along so you can mark your calendar and not miss a day!
Each week will be an adventure into skincare, makeup and beauty treatments for Sunny South Florida's winter beauty enthusiasts. This week marks the introduction of a sought after gift in the United States – the Dr. Grandel 24 Day Ampoule Calendar. It is $250 of intense, concentrated ingredients for only $125.95! What makes it special is that behind each door of the calendar is a day of beauty! Keep reading to see what else is in this fabulous calendar!
WINTER BEAUTY PRE-SALE
Dr. Grandel Ampoule Calendar 

The 24 day Beauty Regimen. Surprise your skin and open a new door each day to find a treat that your skin loves and makes you shine! Get ready for fabulous holiday skin with the ultimate beauty gift.
Surprise your skin! – open a new door each day to find a treat that your skin loves and makes you radiant. Behind each door are 25 highly concentrated effect ampoules (serums):
Included in this Winter Beauty Preview coveted calendar are the following:
1 Ampoule Each of the Following:
Beauty Flash -> Refined & Even
Beauty Xpress -> Rejuvenated & Refreshed
Beauty Sleep -> Soothed & Regenerated
Collagran -> Restructure with Plant Sourced Collagen
Contour Lift -> Lifted & Firmed
Epigran -> multi-active essence from wheat germ that smoothes & firms
Nutri Sensation -> nourished & regenerated
Oxygen -> Revitalized & Rejuvenated
Retinol -> Softened & Lightened
SOS -> Soothed & Destressed
Cell Repair -> Detoxed & Renewed
Hydro Active -> Refreshed & Moisturized
2 Ampoules Each of the Following:
Instant Smoother -> Get the Photoshopped Look With This Ampoule
Hyaluron at Night -> Constant Moisture Throughout the Night
Hyaluron -> Plumped & Wrinkle Filler
Hyaluron Moisture Flash -> Instantly & Deeply Moisturized
Forever 39 -> Firmed Facial  for all Vertical Lines
3 Ampoules Each of the Following:
BeautyGen Renew -> Detox & Repair the Skin
Plus what would any Winter Beauty Ampoule Calendar be without an ampoule mini bar! Combine these 24 days of beauty with a Bella Grande Facial or a Dermaplaning Facial.
In the words of Billy Crystal and Fernando Lamas – You will LOOK Marvelous!
I've been called Nancy Reagan, the First Lady of Skin Care. And if you are old enough to remember former President Ronald Reagan, I'm also known as "NOT THAT" Nancy Reagan.
I believe strongly that the outer skin glow comes from within and that nutrition is an integral part of great skincare. Based on that philosophy, I started Bella Reina Spa, which is recognized as the Best Day Spa in North America with a team of 17 estheticians, massage therapists, and natural nail technicians. The Bella Reina website offers extensive knowledge on products, spa services, and beauty shopping, with a strong focus on vegan and cruelty-free beauty. Welcome to Bella Reina Spa! We look forward to helping you look and feel your best.