HIFU facials are probably the best anti-aging facials out there. If you haven't heard of this facial, it's about time you do. Let's start with the basics!
What is a HIFU facial?
A HIFU facial is basically a non-surgical facelift/noninvasive facial tightening skin treatment.  A HIFU facial can be a great way to slow down the natural aging process, and it's an ideal treatment for skin tightening.
This focused ultrasound treatment facial is better than a surgical facelift. HIFU is great in treating facial wrinkles and boosting the levels of collagen in the skin. It's also better than a surgical facelift because surgical facelifts are painful and costly. HIFU treatment is painless, the cost is much lower than a surgical facelift, and there's no downtime!
How does a HIFU Facial work?
HIFU treatment uses ultrasound energy to target your cells under the skin. The ultrasound waves heat up those skin cells, boosting the production of collagen. The boost in collagen production improves skin elasticity, gives you tighter skin, and firmer skin, and reduces the appearance of fine lines and wrinkles.
HIFU stands for High-Intensity Focused Ultrasound. The ultrasound energy was originally used to treat tumors. In 2008, this ultrasound technology started being used for cosmetic purposes. It's one of the few cosmetic procedures to be approved by the FDA. In other words, it's guaranteed to work. It's a great alternative to surgery! You'll have a more youthful appearance, and your skin will improve over time.
Who should get a HIFU facial?
HIFU treatments aren't for everyone! It's always recommended to check with your esthetician or dermatologist to make sure that you're getting the right treatment for skin type and skin concerns.
Ideal HIFU treatment candidates are those over 30 who have some degree of facial aging (mild-to-moderate skin laxity, fine lines, and/or wrinkles). Those with a certain degree of severe sun damage, or sagging skin will need more sessions in order to see results. Those who are older with a lot of sagging skin or extreme sun damage will probably not be ideal candidates for the HIFU facial.
What results can I expect from a HIFU facial? How long does it take to see results?
HIFU results take time. While you will see some improvement after your treatment, it takes about 2-3 months to see the full results, as your skin produces more collagen. Your skin will be tighter, and more youthful.
Fine lines and wrinkles are reduced with HIFU treatments, skin looks more youthful, and skin is tightened. By maintaining a great skincare routine, results will last longer.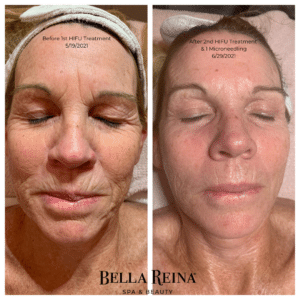 How many HIFU facial treatments do I need?
The number of sessions depends on the current state of your skin. There's no one-treatment-fits-all approach. Those with more signs of aging such as sagging skin might need more treatments to truly reach their skincare goals.
Is there any downtime with a HIFU facial? Are there any side effects?
The fabulous thing about the HIFU facial is there is NO downtime. I mean… a facelift with no downtime? Yes, please.
The only side effects are some mild redness right after receiving the treatment and some swelling.
Where can I get a HIFU facial?
At Bella Reina Spa we are super excited to be trained in HIFU facials! Our estheticians can help you determine if this is the right skin treatment for you, and help determine how many sessions you need, according to your skin goals. Feel free to schedule a consultation with us! We would love to help you on your skincare journey and help you look and feel your absolute best.