Finding the perfect lipstick that works for you is hard enough but finding a natural vegan RED lipstick that delivers is nearly impossible. How is it that we can send men to the moon but have such difficulty creating a red hue vegan lipstick that works? Well, there are a million reasons why it's difficult but we'll get to that later. The most important fact is that we did it. That's right we did it! After many long ideation sessions and hundreds of hours put into testing our recipes for greatness, we created the boldest, purest red vegan lipstick you'll ever fall in love with. Fall in love may be a pretty bold statement, but that's how confident we are in our Bella Reina vegan lipstick. Our new vegan lipstick line doesn't conform to the average expectation of today's makeup. The Bella Reina vegan lipstick collection soars above any vegan lipstick you've ever tried with our vegan lipstick leading the way. Let us tell you why you'll love it.
The Pigment is Perfect
Our Rebel Red is a deep maple shade of red that holds no punches. Big cosmetic companies have found that it's difficult to make a truly vegan red lipstick that becomes a hit with vegan makeup lovers. Usually the pigments aren't true to hue, creating the traditionally vibrant colors that non-vegan makeup offers is no easy feat. That's why we took our time, carefully considering the ingredients and formula for our vegan lipstick collection. We created a fabulous vegan red lipstick that performs, has great color and is 100% vegan!
Check out what this beautiful model @hannamarielei had to say about Rebel Red: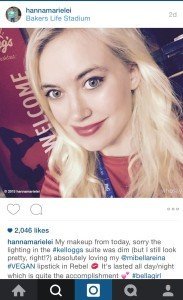 "Absolutely loving my @mibellareina #VEGAN lipstick in Rebel. It lasted all day/night which is quite the accomplishment." -@hannamarielei
We're Serious About Vegan Makeup
We've heard so many women complaining about the tricks being played on ingredient labels and the lack of transparency in the cosmetic industry that we had to develop a solution for this problem. At Bella Reina Cosmetics, we're serious about vegan makeup and creating simple, natural cosmetics that evoke every woman's inner queen. Our vegan lipstick is exactly what we say it is, VEGAN. The collection is also gluten-free and most importantly chemical-free. Your lips will be pampered by our recipe for red, and it's amazing list of ingredients; organic oils, pure mineral pigments, and botanical extracts.
Vegan Red Lipstick for Fall
The Rebel Red vegan lipstick is just in time to make your fall fashion statements pop. This season is all about understated hues in our clothes and bold, focus points in our makeup. Rebel Red's beautiful maple hues pair well with the warm, woodsy colors of fall. This fall, be bold and be brave with our new vegan red lipstick. Don't just fall in line with the basic trends of the season. Blaze your own path for beauty with our vegan lipstick.