Spa Gifts : Dreamy Beautifying Gifts Perfect for Your Spa Queen!
Gift shopping isn't about buying the most expensive present, it's about showing that special someone how much you love and care for them.
If you're always struggling to find the perfect gift for the perfect woman (aka Spa Queen, Beauty Buff, Nature Girl)—whether she's your mom, your sister, your friend, or your significant other—stress no further! We've got you totally covered.
Our Bella Reina spa gifts and products make great spa gifts for her. Surprise the beauty enthusiast or spa addict in your life with one of our unique spa day gift sets, or something from our amazing skin care collection.
Check out our top picks chosen by the Bella Reina team for unique Holiday Chic Spa gifts she'll surely love.
Happiness Candle
If you can't bring your lady to the spa, bring the spa to your lady! The Bella Reina Happiness Candle is the perfect way for the woman in your life to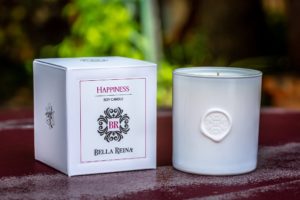 relax and unwind in her own home.
Heaven knows, the customized signature scent will make her feel like she's lazing by the warm fire with a glass of champagne in hand. The earthy, woody notes are sure to delight and soothe her.
This soy-based candle makes a great accompaniment to a hot bubble bath and a good book. At 9 oz, the Happiness Candle has a burn time of around 55-60 hours for a long-lasting spa experience.
Holiday Magic Eyeliner
For the makeup lover, you can't go wrong with the Bella Reina Holiday Magic Eyeliner. This liquid liner is easy to use even for beginners! She definitely won't have any problems creating a wide variety of looks, from cheeky and sweet to bold and dramatic. The pen-type applicator ensures maximum control for clean, sharp lines every time.
The eyeliner is also completely waterproof, sweat-proof, and smudge-proof—perfect for the girl on the go. This long-lasting, high-precision liner comes in four pigmented colors: black, brown, purple, and blue. Plus points for being completely cruelty-free, which means that it wasn't tested on animals at any point in the manufacturing process.
Skincare Basic Bundle
You know what would really impress her? A complete skincare routine that covers all the basics and more. The Skincare Bundle includes basically everything your lady would need for a complete facial care routine: a cleanser/exfoliator, serum, and moisturizer, all formulated by the skincare experts at Bella Reina.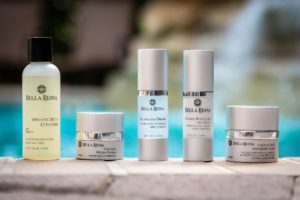 The Organic Beta Cleanser is a 2-in-1 organic face wash that detoxifies while it cleans. It contains beta hydroxy acids to take care of stubborn blackheads and blemishes without drying out the skin. It helps in unclogging pores, exfoliating dead skin cells, and removing impurities. It's a daily must-have for women with normal, oily, sensitive, or acne-prone skin.
The second product in the bundle is the Flawless Drops moisturizing lipid serum. Formulated with sphingolipids and ceramides to mimic the skin's natural moisture barrier, it works overtime to give her radiant, youthful, glowing skin. She will love how it glides naturally on the skin without feeling greasy. Plus, it helps reduce and even reverse the signs of aging, such as fine lines, wrinkles, and dark spots.
Last, but definitely not the least, is the Face & Neck Infusion Creme. Formerly known as the Nancy Reagan moisturizer it's a luxurious facial treatment, sure to leave your skin looking younger every day! This "green creme" speeds up skin cell turnover to maximize the anti-aging effects of other skincare products.
Together, these three products make up the ultimate tried-and-tested skincare package.
Herbal Neck Wrapper
A perfect spa gift for mom, this neck wrap pillow is chock-full of soothing organic herbs like flax seed, peppermint, spearmint, and chamomile. Aromatic, relaxing plants are combined with a smooth satin cover for a hands-free relaxing experience.
Her senses will be stimulated by the natural healing energy of the herbs. The neck wrap comes with an adjustable heat pack that can be microwaved to promote better blood circulation, relax tired muscles, and relieve stress. It can also be cooled for a whole host of other benefits including migraine relief and inflammation reduction.
The Bella Reina neck wrapper is one of our premium spa products proudly made in the USA. At just 2.5lbs and 30"x4", it's the perfect weight and size for every body.
Lavender Eye Pillow
Lavender is known to relieve tension, headaches, puffy eyes, stress, and insomnia. Help your lady get better, more quality sleep with the Bella Reina lavender-scented aromatherapy eye pillow.
She can slip this one on right before bed, or throughout the day to give her eyes a quick break. It also makes a good accessory for yoga, meditation, and other relaxation activities.
This eye pillow—like other Bella Reina products—is handcrafted in the US from only the highest quality materials.
Spa Day Gift Packages
Whether it's a birthday, anniversary, Christmas, Hanukkah, Valentine's Day, Mother's Day, or just because, there is no better gift than the gift of relaxation. All women need a day to themselves once in a while, and our Bella Reina spa day gift packages give them the perfect opportunity to escape from her busy life.
We offer three different online gift cards for relaxing five-star spa packages of treatments: Relax Spa Package, Renew Spa Package, and the Bella Reina Signature Spa Package.
The Relax Spa Package is a 2-hour deluxe treatment that includes the following:
Organic Swedish massage
Herbal steam towel treatment
Aromatherapy back scrub
Deluxe spa pedicure
Goodie bag with organic Bella Reina lip gloss
If your wonderful woman needs more time to unwind, get the 3-hour Renew Spa Package, which features many of Bella Reina Spa's most sought-after services, like:
Organic Swedish massage
Herbal steam towel treatment
Spa facial with special coconut papaya enzyme peel
Deluxe spa pedicure
Goodie bag with organic Bella Reina lip gloss
Green tea and healthy, organic snacks
Finally, to treat her to a spa day that will make her feel like the queen she is, go for the Bella Reina Signature Spa Package. It's 3.5 hours of the absolute luxury, the ultimate "transformation" spa experience. This package includes:
Biodrogra Grande Facial
Organic Bella Body Massage
Sugar scrub back treatment
Herbal steam towel treatment
Bella Green Tea pedicure, soak, and foot mask
Goodie bag with organic Bella Reina lip gloss
Green tea and healthy, organic snacks
Dreamy beautifying gifts perfect for your spa queen.
Get that special woman (you know the one) in your life something she'll truly love. Choose from the Bella Reina selection of spa gifts for her! We have a wide range of spa products, organic/vegan makeup, skin care treatments, and spa day gift packages that make perfect presents for every occasion. Shop online or in the spa.