In May, we hosted 12 Palm Beach Bloggers for the Spa and Wellness Month kickoff event. October is officially the Palm Beaches Spa and Wellness Month with special spa and wellness services that benefit the American Cancer Society.
Everyone knows that October is Breast Cancer Awareness month for the American Cancer Society.  Discover the Palm Beaches and Bella Reina teamed up to provide an evening of spa and wellness treatments. This event showcased not only the spa's unique services but highlighted the upcoming celebration.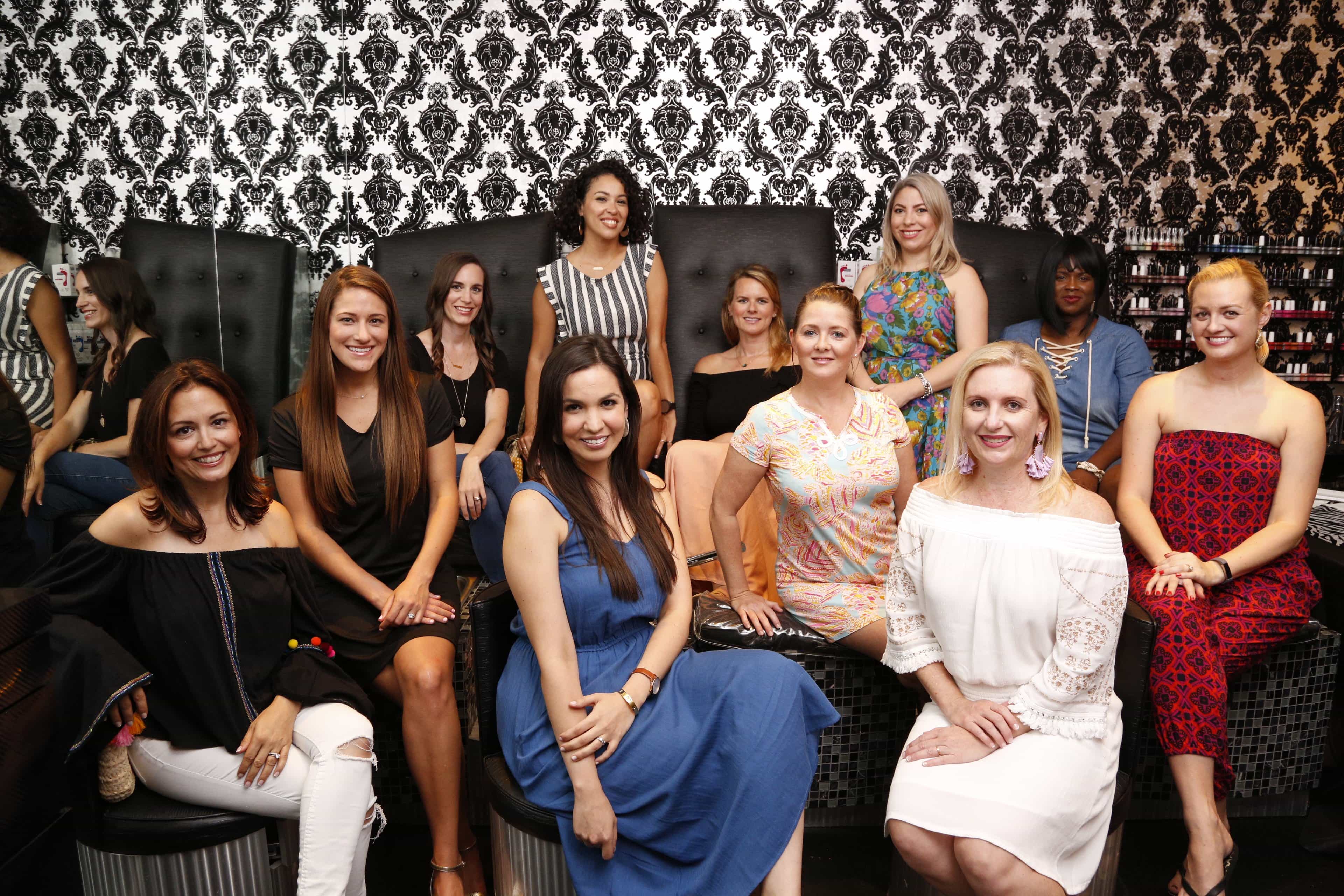 The Palm Beach bloggers above from left to right: Dana (Pellerini Modern Mom), Skye (Travel Writer & Editor), Christina (Christina All Day), Erika (Essentially Erika), Elizabeth (Espresso and Chanel), Mandy (The Global Local), Sara (Shrimp Tank), April, (April GoLightly), Heather (Local Mom Scoop), Dawn (Simply Sassy Style), and Michelle (Modern Boca Mom). Photo by Jenn Scott Photography.
First before we get to the Spa and Wellness month, you must visit these incredible women on their blogs and follow them on social media (Instagram). Before I met them, I wondered how could so many women have so much to write about in South Florida. Each of them has their own special niche with their own views and perspectives. It's quite fabulous.  One lives on a small boat, one is a travel writer, some are moms, some are just loving South Florida. SO follow them and learn all about where you live, things to do and the best ways to do them. Now back to spa and wellness!
The evening kicked off with pink raspberry champagne spritzers and spa stations set up throughout the spa. Each station provided these talented lifestyle writers and photographers with a sampling of services including:
Paula demonstrated the long lasting "dries in 5 minutes" vegan Dazzle Dry polish with a French polish changes.
Jessica showed the amazing effects of a warm keratin hand treatment.
A Green tea hydrating foot soak followed by a green tea leg & foot massage was the answer to many bloggers prayers.
Treatment Room #1 Eyebrow Waxing with Azulene Hybrid Wax
Mary Liz & Mary performed perfect eyebrow waxing with the zeal and finesse of true eyebrow artists. Mary Liz, the microblading queen discussed the pros & cons of this incredible service.
Treatment Room #2  Skin Technology Station
Karla & Stacy manned the Clinical Skin Care room with demos on the Celluma LED light treatment. Other discussion included Dermaplaning, Microneedling, Rezenerate Technology and the effects of Micro current treatments on the skin.
Treatment Room #3  Neck and Shoulder Massage
Debra left everyone in "la-la"land with neck & shoulder massages on the jade infrared heated blanket.
True to form – you can never leave the spa not looking fabulous.
Makeup Bar Vegan Makeup Touchups
Laurie showcased vegan & cruelty free makeup touch ups for all of the attendees.
These demos were a glimpse of the future October Spa & Wellness Month specials. Each special is only $99 and you can choose from a Facial, Massage or Pedicure. Even better, $5.00 for every treatment goes to the American Cancer Society for breast cancer awareness.
Learn more about Spa & Wellness Month here and book your appointment now!