Even though South Florida is warm all year long, it seems that July 4th really brings in our summer. It's hot, humid and when the beach is not available….it's time to spa! Make this July 4th, your very own Declaration of Relaxation.
With this come some amazing specials!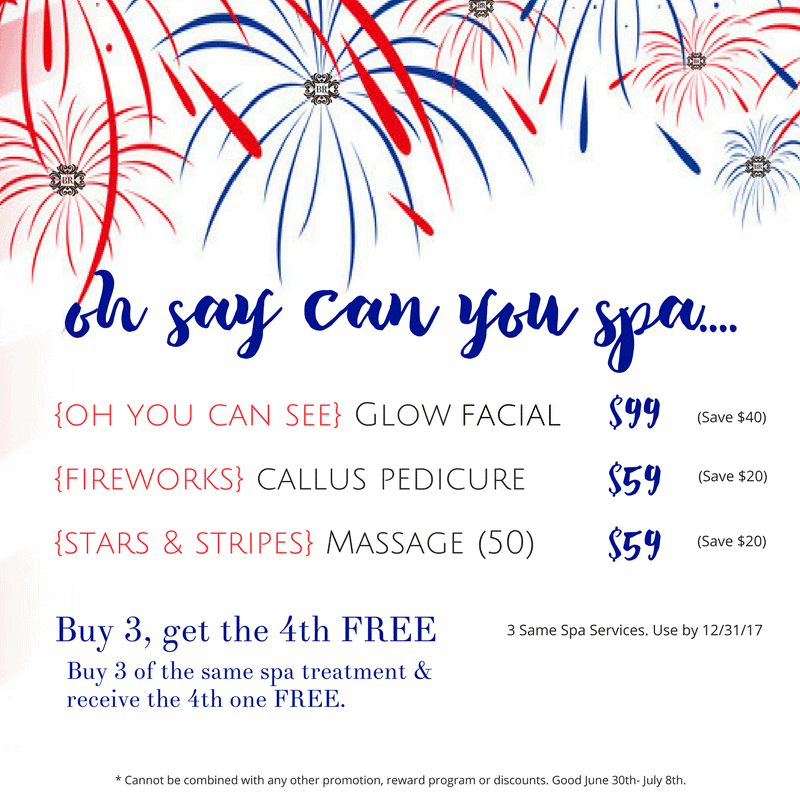 The Oh You Can See Glow Facial is our very own Biodroga Glow Facial which provides amazing firm, glowing skin that is tightened, exfoliated and deeply cleansed. It includes double cleansing, double exfoliation, mask and if I could add, you would notice that you are saving $50, not $40.
The Fireworks Callus Pedicure takes our infamous soft foot pedicure and gives you just one relaxing spa special. With guaranteed softest feet ever, this pedicure will give you the perfect red, white & blue pedicure to celebrate the day.
And if those specials were not enough, the massage department insisted on giving you a Stars & Stripes independent kind of treatment. With organic massage cream, aromatherapy, steamy hot towels and customized pressure, nothing could be better than a Bella Reina Spa Massage (than saving $20!!).
Buy 3, Get the 4th for FREE!
To keep your Declaration of Relaxation all summer long, the Buy 3, get the 4th for FREE. (Get it…July 4th…4th….) just wondering if you made the connection. Yes, buy any 3 spa treatments (facials, dermaplaning, microneedling, massages or pedicures) and receive the 4th for FREE!
Celebrating the summer holidays is truly something to look forward to. It means family, cookouts, fireworks, and fun. The beach is close by. Atlantic Avenue beckons us to come down for something fabulous to eat or an after dinner treat.
Call the spa today at 561-404-7670 to make sure that you look and feel fabulous for the July 4th, Independence Day festivities. It's going to be a hot one this year!
Oh Say Can You Spa….by the