Global Wellness Day Activities, June 9th, 2019
Started in Turkey, in 2012, Global Wellness Day is celebrated on 7 continents and on the 2nd Saturday of June.
This year on June 9th, Bella Reina will start an initiative for Bella Reina Global Wellness Day that includes awareness and education of products and treatments that affect each of you from the inside to the outside
While stress and the environment play such an integral part in our health, you can control your products, your treatments and how they affect not only you, but the environment. 
Global Wellness Day at Bella Reina Spa
Wellness Day Events on June 9th include:
Drink "Wellness" Water – Bring in your container and fill it up with the Spa's Alkaline Water System, Complimentary with any Spa Service.
Wellness DETOX Package – Enjoy an Organic Spa Massage followed by a Jade & Tourmaline Infrared Detox Blanket (70 Minute) for USD 129, not including gratuity.
Wellness Makeup Touch-up – Pop in the spa for a Wellness Makeover with Vegan and Cruelty-Free Makeup, complimentary with any makeup purchase.
Wellness Pedicure with Eco-Friendly "Non" Paraffin – Oxygen technology is used to increase blood flow and circulation to the legs with a sugar scrub and foot treatment using 100% biodegradable "non" paraffin. Delight your toes with a vegan non toxic polish delivers high gloss nails for USD 69, not including gratuity.
Skin Wellness Glow Facial – Create your Wellness glow for your skin with a microdermabrasion detox including a summer berry enzyme combined with ultrasonic infusion of peptides and enzymes for USD 129, not including gratuity.
What is Global Wellness Day?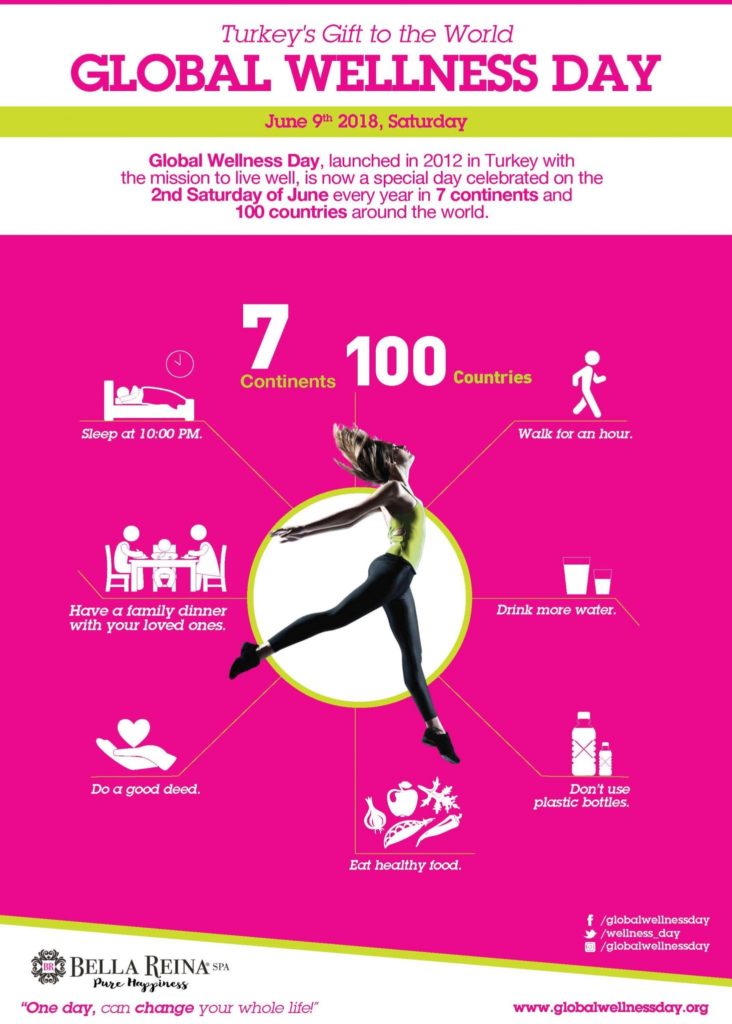 The initiative started in Turkey was a real mission to live well. At the core are a 7 Day Manifest of basic steps that you can do every day and every week.
They include the following:
Walk for an hour
Drink more water
Don't use plastic bottles
Eat healthy food
Do a good deed
Have a family dinner with loved ones
Sleep at 10:00 PM
To reserve these special wellness package options, contact the Spa directly at 561 404 7670 or book online at www.BellaReinaSpa.com.
Create your own Global Wellness Day by following @MiBellaReina on Instagram or @Bella_Reina_Spa on Twitter using the hashtags #BellaReina and #GlobalWellnessDay.