Get Dirty Delray Beach!
This Friday is International Mud Day and Jacqueline from Wisetribe came to us about raising money to help support and nourish people in our community. Mention mud and the Bella Reina Team is ready!
International Mud Day is all about connecting the children with the earth. We sat down and had a little pow-wow about all of the treatments we do with mud! And the jury is out….we LOVE MUD!
And the mud treatments that we will be offering from July 30 – June 7th will donate 10% back to support a local Food Movement.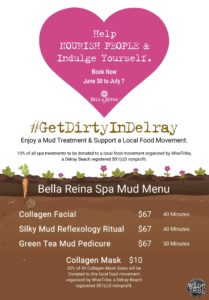 Bella Reina Spa MUD MENU
Collagen Facial with a "Black as Mud" Collagen Mask $67
Silky Mud Reflexology Ritual $67
Green Tea Mud Pedicure $67
And if you don't have time for a MUD treatment, you can purchase a Limited Edition "Black as MUD" Collagen Mask for $10 and $5 goes to donations.
Benefits of MUD Treatments
Draws in moisture and rehydrates the skin where needed
Helps to firm and rehydrate skin
Calms and reduces dryness
May be anti-inflammatory
Can alleviate aches & pains
This Friday, we will be at Delray Beach's Children's Garden with children and their mothers so they can experience first hand the power of mud. We will be showcasing our Green Tea mud for hand treatments!
So come out this week and indulge yourself to support a local food movement!!
Photos from our recent pop-up at the Delray Beach Children's Garden to celebrate International Mud Day.
[gallery link="none" ids="7545,7546,7549,7550,7547"]