See why we fell in love with SuperGOOP's CC Cream! Seriously, very few products pass an "let's use this daily" inspection from our whole team. The team ranges in age from 20 to sixty-something and every skin type and tone. So, when at a recent team meeting, the Supergoop CC cream was tapped as one of our 3 most popular products, I was a little surprised.
Of course, out come the questions. Why do you like it? What makes it so great? Why do you like it in the summer? Here were some of the answers and you will be surprised!
How the Team FELL in LOVE with Supergoop CC Cream
Why do you like it?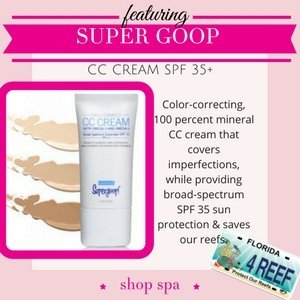 It applies smoothly and evens out my skin.
I like it because it doesn't feel cakey like most sunscreens.
It fills in my pores; I have some scars and you don't see them.supergoop CC cream
I apply it to my clients after a facial. It doesn't gum up and if I've done extractions, it hides all of the redness.
What makes it so Great?
You are wearing sunscreen and it looks like makeup – really it does!
I've got combination skin and it works well on the oily and the dry spots.
I'm a big diver and the climate changes and chemicals are hurting the reefs. The Supergoop CC cream doesn't have ingredients that harm the coral reefs.
Why do you like it in the Summer?
It's light, clean and it has great coverage. I have darker skin and pigmentation issues and you don't even see the brown spots.
I love all the Supergoop products, but I really love the Supergoop CC Cream because softens my wrinkles.
Now, the company is making a powdered sunscreen too, so I'm using the CC Cream in the summer as a foundation with the powder. It's so much nicer for my skin.
I'm super active and I love the fact that the CC cream gives me coverage, but I don't seem to melt in the humidity and heat of South Florida.
So, there you have the teams point of view on the Supergoop CC Cream. It's really pretty special! Stop by the spa boutique and try it!
Supergoop is only available at fine spas and department stores.