Eyebrows for Chemo Patients – Bella PINK Alert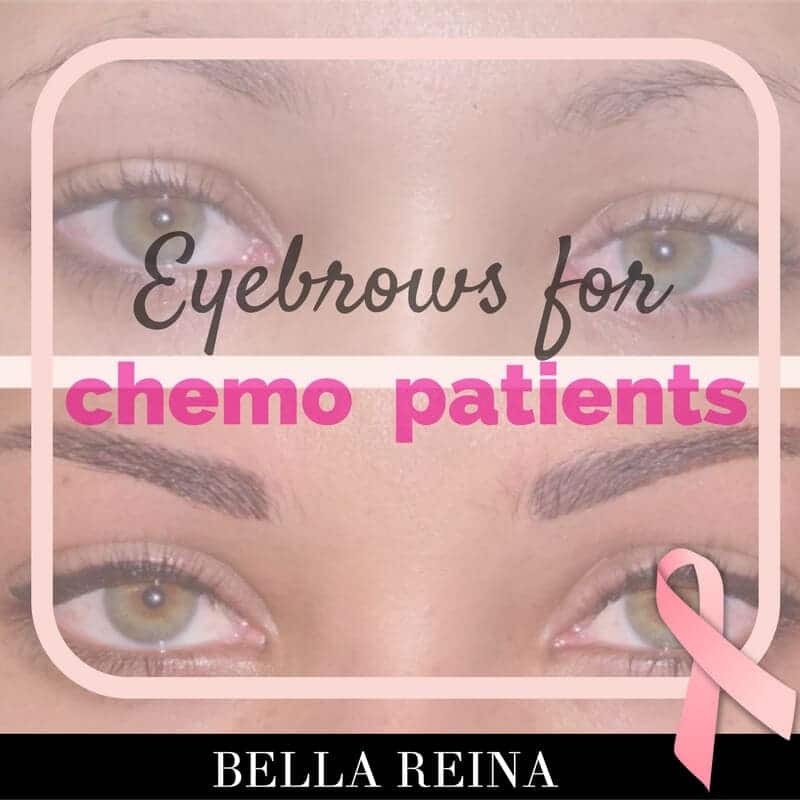 Eyebrows for Chemo Patients is our Bella PINK Alert topic as October is Breast Cancer Awareness Month. For many women losing their hair can be more emotional than the cancer itself. The absence of eyebrows or eyelashes can be a signal that you are not well. The little bit of confidence that you have left can be boosted by bridging the gap between the ravages of cancer and the vegan side of beauty.
At the spa, we try to understand the dangers of cancer-causing chemicals and foods, that wreak havoc daily on the body. Not only are there cancer-causing beauty products, but once you have cancer, there are the side effects of treatment. One of the biggest side effects is the loss of hair, especially eyebrows.
Don't know about you, but when we look good, we feel much better. There is something to be said about wanting to look our best. Here are some of our ideas for creating eyebrows for chemo patients.
Create Your Own Brow with Makeup
Create eyebrows using vegan and cruelty-free makeup that is good for you. With a combination of the Bella Reina Waterproof Eyebrow Pencil and the Translucent Powder, you can create brows that look real. It is all about the hairline stroke and keeping the pencil stroke short.
If you are looking for an eyebrow pencil that is great for filling in sparse brows, you may love our pencil. Clients say that they love the way it helps them fill and make a brow. Other clients comment that they love the range of colors, because we offer auburn, black and three different browns. Creating eyebrows for chemo patients is all about making the eyebrow look real.
Use a combination of colors, like light brown and medium brown, so that the brow has a 3D effect. Mark a dot from the side of the nose to the brow bone and start the brow. Use the eye to judge the arch. The end of the brow should taper off with a vertical line from the nose to the corner of the eye. Set the final brow with powder to hold in place.
If the techniques above seem beyond your makeup skills, schedule a makeup application with a special brow lesson. This can help you learn how to highlight your best features and cover the changes in your appearance from chemo.
Create a Eyebrows for Chemo Patients with False Eyebrows
Fake eyebrows with real hair can be applied with glue and worn for a couple of days.
Temporary eyebrow tattoos can be used as another option. They apply with a damp washcloth and can also last a couple of days.
Eyebrows for Chemo Patients with Permanent Makeup
One of the best and easiest ways to create eyebrows is with permanent makeup. This technique utilizes micro-pigments to implant color into the skin. Permanent makeup or cosmetic tattoos have been around for years. The perfection in the technique and the ink colors can help a chemo patient by creating gorgeous eyebrows. The skill of the artist requires that the colors and the shape appear as real hair-strokes and have a 3D effect.
One option is to treat one month prior to the chemotherapy drugs.
Another option is to create permanent eyebrows and or eyeliner during the course of chemotherapy during an off week. Both options require prior doctor approval.
Reserve a free consultation to determine if this option is for you by calling 561-404-7670. Permanent eyebrows for chemo patients can transform not only your face, but your whole attitude. (From the inside)
I've been called Nancy Reagan, the First Lady of Skin Care. And if you are old enough to remember former President Ronald Reagan, I'm also known as "NOT THAT" Nancy Reagan.
I believe strongly that the outer skin glow comes from within and that nutrition is an integral part of great skincare. Based on that philosophy, I started Bella Reina Spa, which is recognized as the Best Day Spa in North America with a team of 17 estheticians, massage therapists, and natural nail technicians. The Bella Reina website offers extensive knowledge on products, spa services, and beauty shopping, with a strong focus on vegan and cruelty-free beauty. Welcome to Bella Reina Spa! We look forward to helping you look and feel your best.