Experience Deep Relaxation with Bella Exclusive Body Peel Facial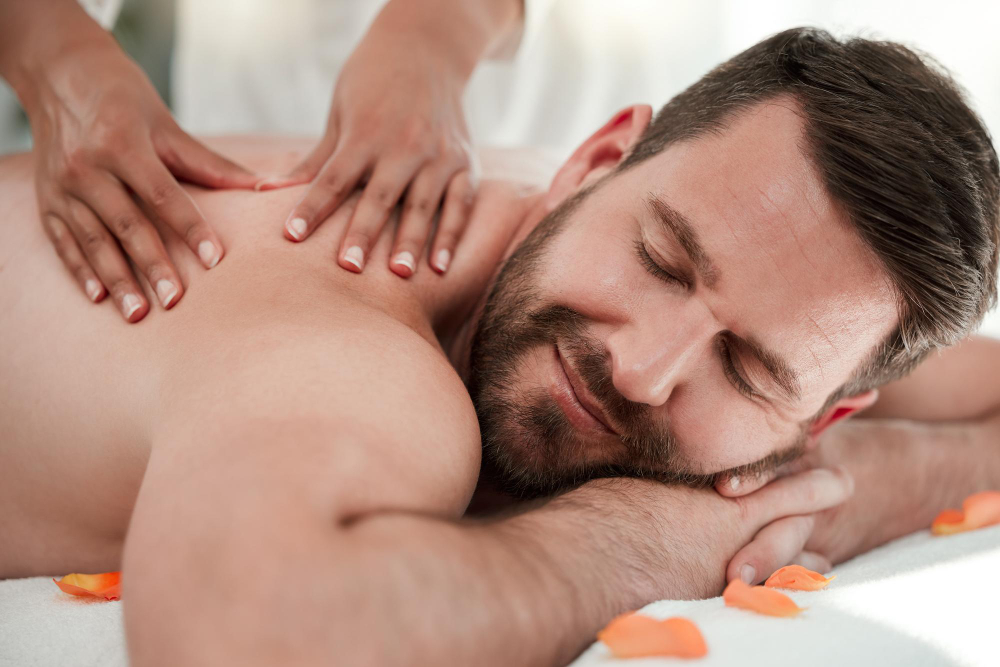 Our Bella Exclusive Body Peel Facial offers a spa experience like no other. This treatment is not just a run-of-the-mill scrub; it's a rejuvenating journey that transforms your skin's texture, leaving it smooth, hydrated, and glowing. We'll take you through the exquisite details of this 60-minute pampering session, accompanied by optional boosters that enhance relaxation and offer targeted benefits.
The Bella Exclusive Body Peel Facial
Imagine a facial, but for your entire body. Our Bella Exclusive Body Peel Facial goes beyond the ordinary, peeling away layers of dead skin to reveal a fresh canvas. The Bella exclusive body peel facial provides true resurfacing, restoring your skin's radiance and vitality.
After the peel, your skin is treated to a luxurious infusion of vitamins and antioxidants. This potent blend works wonders, revitalizing your skin and leaving it with a youthful glow. But that's not all – the experience culminates with a custom massage that lavishes relaxation upon you.
Who Needs This Treatment?
This treatment is perfect for those seeking a comprehensive solution to dull skin. If you're looking to rejuvenate your skin's texture, address uneven tone, or simply indulge in some self-care, the Body Peel Facial is tailor-made for you. It's also an excellent choice before special occasions when you want your skin to look its absolute best.
Unlocking Deep Relaxation: Body Treatment Boosters
Body Booster $15 – Aromatherapy, Head and Scalp Massage, and Collagen Eye Mask
Infused with the soothing scents of Lavender, Eucalyptus, or Stress Relief, this booster takes relaxation to the next level. The head and scalp massage not only melts away tension but also improves blood circulation, promoting healthier hair. The collagen eye mask targets the delicate under-eye area, reducing puffiness and fine lines.
Body Booster $30 – Sugar Back Scrub and Celluma Infrared LED Pain Relief Therapy
The Sugar Back Scrub exfoliates and polishes your back, ensuring that no part of your body is left untouched by our Bella exclusive body peel. The Celluma Infrared LED Pain Relief Therapy is a marvel of technology, providing targeted pain relief and reducing inflammation. It's an excellent option for those with specific discomfort or pain points.
The Magic of Celluma Infrared LED Pain Relief Therapy
Celluma Infrared LED Pain Relief Therapy is a non-invasive treatment that utilizes the power of light to alleviate pain and reduce inflammation. The infrared light penetrates deep into the skin, promoting healing at a cellular level. Whether you're experiencing muscle soreness, joint pain, or other discomfort, this therapy can offer relief, leaving you feeling more relaxed and comfortable.
The Blissful Head and Scalp Massage
The head and scalp massage is more than just a luxurious add-on; it's an integral part of the relaxation experience. The scalp has many pressure points that, when massaged, trigger a release of tension throughout the body. This massage helps with relaxation and improves blood circulation to the scalp, promoting healthier hair growth.
The Wonders of the Collagen Eye Mask
The eyes are often called the windows to the soul, but they're also a telltale sign of stress and fatigue. Our collagen eye mask works wonders to combat these effects. It hydrates the delicate skin around the eyes, reducing puffiness and diminishing the appearance of fine lines. As a result, your eyes look brighter, more youthful, and ready to take on the world.
Conclusion
The Bella Exclusive Body Peel Facial is more than a spa treatment; it's a holistic experience that pampers your body and soul. With the option to enhance relaxation through body treatment boosters, address pain with Celluma Infrared LED Therapy, and enjoy the benefits of a head and scalp massage and collagen eye mask, this 60-minute journey promises to leave you feeling rejuvenated and radiant.
Say goodbye to dull skin and stress – it's time to enjoy the luxury you deserve.
I've been called Nancy Reagan, the First Lady of Skin Care. And if you are old enough to remember former President Ronald Reagan, I'm also known as "NOT THAT" Nancy Reagan.
I believe strongly that the outer skin glow comes from within and that nutrition is an integral part of great skincare. Based on that philosophy, I started Bella Reina Spa, which is recognized as the Best Day Spa in North America with a team of 17 estheticians, massage therapists, and natural nail technicians. The Bella Reina website offers extensive knowledge on products, spa services, and beauty shopping, with a strong focus on vegan and cruelty-free beauty. Welcome to Bella Reina Spa! We look forward to helping you look and feel your best.