Bella Reina Introduces the Best Vegan Bronzing Powder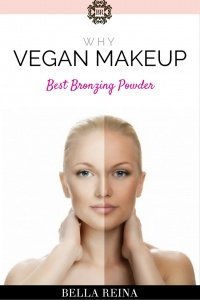 Finding the Best Vegan Bronzing Powder
Since 2012, Bella Reina Cosmetics has provided a vegan cosmetic line. All of our products are 100% cruelty-free. You can feel good and look good using our cosmetic line.  Are you looking for the best vegan bronzing powder? Bella Reina has the products for you. What do you look for when choosing the best vegan bronzing powder? Our criteria were simple:
Natural Look
Healthy for Your Skin
Chemical-free
Natural Looking Bronzer
Bella Reina offer bronzers in two color options; LuxeTan and Nice Tan.
We created bronzers that would give clients a natural and beautiful skin color. When you use the best vegan bronzing powder; you should look like you just came from the beach. That is exactly what our products provide. Your tan will never look fake or too orange.
Healthy for Your Skin
Many high-end bronzers will give your skin a beautiful tan glow. But many of them can irritate your skin, leaving it in worse condition than before you used the product.
The best vegan bronzing powder should naturally leave your skin healthy. Using make-up should not make you dependent on continually using make-up. Your skin will be left with a healthy feel and a glowing appearance. You will love your skin, even after our product is removed.
Chemical-free
It is not enough for the product to only be vegan and cruelty-free; the best vegan bronzing powder must also be chemical-free.
Chemicals in makeup can cause:
Allergies
Acne
Hormonal Imbalance
Irritate the Skin
We do not want our clients to have any negative chemical side effects, which is why our products are all chemical-free.
Bella Reina Cosmetics
Bella Reina provides quality cosmetics that are:
Cruelty-free
Chemical-free
Vegan
Organic
High Quality
We believe our products should make you look and feel good. We offer the highest quality cosmetics, without the use of harmful ingredients. The best vegan bronzing powder should be safe for your skin and your conscious.
You can purchase our bronzing powder in the Bella Reina online store. If you have any questions or would like to make an appointment at our South Florida spa; call us today at 561-404-7670. Beautiful tan-looking skin is just a couple clicks away.
I've been called Nancy Reagan, the First Lady of Skin Care. And if you are old enough to remember former President Ronald Reagan, I'm also known as "NOT THAT" Nancy Reagan.
I believe strongly that the outer skin glow comes from within and that nutrition is an integral part of great skincare. Based on that philosophy, I started Bella Reina Spa, which is recognized as the Best Day Spa in North America with a team of 17 estheticians, massage therapists, and natural nail technicians. The Bella Reina website offers extensive knowledge on products, spa services, and beauty shopping, with a strong focus on vegan and cruelty-free beauty. Welcome to Bella Reina Spa! We look forward to helping you look and feel your best.