August is Wellness Month, Created by Live, Love, Spa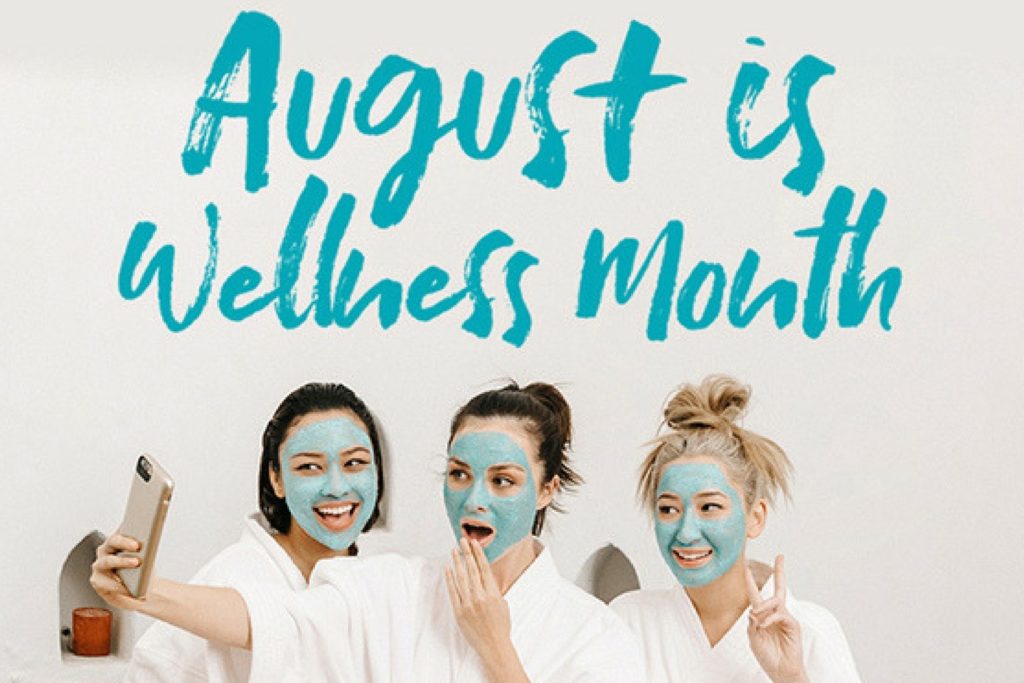 August is Wellness Month, created by LIVE, LOVE, SPA
August brings us to the traditional last month of summer, but here in South Florida, that's such a cliche. For parents, it's the last trip before school starts. For teachers, it's getting ready for school to start. For the rest of us, it's a time to focus on Wellness.
Wellness has been a big theme in the industry this year. With the world in such a constant turmoil, it is super important to take care of yourself.
We've been so conditioned to believe that taking care of ourselves is a selfish deed. We beg to differ. Research shows that you can only really take care of others if you've taken care of you first. Hey, I'm totally down with that. And I do believe that my 14-year-old Irma (Spinone) and 9-month-old Henrietta (Cavapoo) would totally agree.
To create August Wellness specials, the team went a little overboard actually training for new techniques!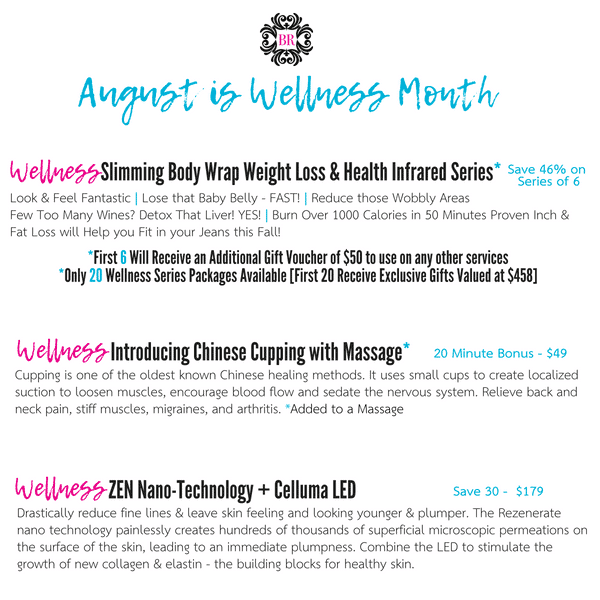 Wellness Slimming Body Wrap Weight Loss & Health Infrared Series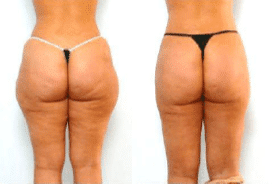 LOOK & FEEL FANTASTIC WITH THIS FRENCH INFRARED BODY TREATMENT
Lose that Baby Belly – FAST! | Reduces those Wobbly Areas  | Get Your Old Thighs Back!
Few Too Many Wines? Detox That Liver! YES! | Proven Inch & Fat Loss will Help you Fit in your Jeans this Fall!
Gives You Energy to Chase the Kids |Burn Over 1000 Calories in 50 Minutes | Jade & Tourmaline Infrared Jump Starts Weight Loss
SERIES of 6 EXCLUSIVES
Exclusive Gifts of Collagen Facial Mask ($39), Collagen Neck Mask ($29) with Every Six Series Treatment
First 6 Will Receive an Additional Gift Voucher of $50 to use on any other services
Only 20 Wellness Series Packages Available Look Amazing in Six Sessions!
$625 (Save 46%) on a Series of Six
Valid through 8/31/2018 or until 20 Wellness Series Packages are Sold. Cannot be combined with gift cards, discounts, other offers or promotions.  Standard cancellation policies and considerations apply. Limit 1 per person.
---
Wellness Introducing Chinese Cupping with Massage 
Cupping is one of the oldest known Chinese healing methods. It uses small cups to create localized suction to loosen muscles, encourage blood flow and sedate the nervous system. Relieve back and neck pain, stiff muscles, migraines, and arthritis.
This type of treatment works deep in the fascia (technical term) to help pull out the toxins and debris blocking the muscles. It not only does wonders for the muscles, but also for the lymphatic system.
20 Minute Bonus – $49 (Book a Massage & Add the Cupping)
---
Wellness ZEN Nano-Technology + Celluma LED Skin Treatment 
This facial must be experienced to see the results yourself. As an esthetician, when we see the skin change right before our eyes…it's very exciting. The resounding client approval as made this facial the Best Ever!
Drastically reduce fine lines & leave skin feeling and looking younger & plumper. The Rezenerate nanotechnology painlessly creates hundreds of thousands of superficial microscopic permeations on the surface of the skin, leading to an immediate plumpness. Combine the LED to stimulate the growth of new collagen & elastin – the building blocks for healthy skin.
Save 30 –  $179
---
Book Online Now or Call 561-404-7670
I've been called Nancy Reagan, the First Lady of Skin Care. And if you are old enough to remember former President Ronald Reagan, I'm also known as "NOT THAT" Nancy Reagan.
I believe strongly that the outer skin glow comes from within and that nutrition is an integral part of great skincare. Based on that philosophy, I started Bella Reina Spa, which is recognized as the Best Day Spa in North America with a team of 17 estheticians, massage therapists, and natural nail technicians. The Bella Reina website offers extensive knowledge on products, spa services, and beauty shopping, with a strong focus on vegan and cruelty-free beauty. Welcome to Bella Reina Spa! We look forward to helping you look and feel your best.