Sweaty Feet Causes and Remedies. Yes. Sweaty Armpits and Sweaty Hands Too.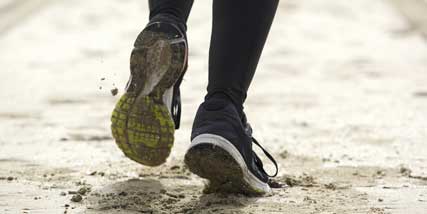 Talking about sweaty feet causes is not like discussing a blush color. However, sweaty feet can be a real problem for many people.  It can be caused by a condition known as Hyperhidrosis.  Hyperhidrosis is the condition characterized by abnormally increased sweating/perspiration in excess of that required for regulation of body temperature.
To some this is a psychological, emotional, and social quality of life issue.  This 'silent handicap" not always relates to this condition.  Like the color of your face, there are other causes.  During the summer especially, we see and hear an increase of clients commenting how they are slipping and sliding in their flip flops, their sandals, their shoes.  This is partially due to the humid summer weather and partially due to the leather soles in our footwear.
Footlogix® brand products carries a Mousse based formula called "sweaty feet".  With Oakbark extract and sage, the Mousse when applied daily will soak up the moisture and eliminate all that slipping and sliding.  Sweaty feet formula is not a cure.  But, it will make a difference and you will never leave home without it.
Got sweaty hands?  Footlogix® sweaty feet formula works on the hands as well.  In fact, I have first hand experience to know it also works on the armpits.  Use Footlogix® sweaty feet formula prior to applying a deodorant, and you will be amazed at the difference.
FOOTLOGIX® SWEATY FEET FORMULA
Acts as an astrigent to help reduce foot perspiration
I've been called Nancy Reagan, the First Lady of Skin Care. And if you are old enough to remember former President Ronald Reagan, I'm also known as "NOT THAT" Nancy Reagan.
I believe strongly that the outer skin glow comes from within and that nutrition is an integral part of great skincare. Based on that philosophy, I started Bella Reina Spa, which is recognized as the Best Day Spa in North America with a team of 17 estheticians, massage therapists, and natural nail technicians. The Bella Reina website offers extensive knowledge on products, spa services, and beauty shopping, with a strong focus on vegan and cruelty-free beauty. Welcome to Bella Reina Spa! We look forward to helping you look and feel your best.