WHY You'll LOVE THIS
The Supergoop Glow Screen Sunscreen is perfect if you're looking for a great sunscreen with a dewy finish.
It's safe for all skin types!
It has a pearlescent formula that will leave your skin glowing, without visible glitter.
It has broad-spectrum protection, and it's SPF 40!
Not only does the Glow Screen provide sun protection, but it also works as a primer for your makeup. Or, if you're skipping the makeup, it gives your skin a beautiful dewy finish.
The Glow Screen has ultra-hydrating active ingredients, such as hyaluronic acid, and Vitamin B5.
All Supergoop products are reef safe, cruelty-free, and clean! Most sunscreens contain oxybenzone, which is very harmful to the skin, but Supergoop's innovative mineral sunscreen formula doesn't contain any of the harmful chemicals found in other sunscreens. It's great for your skin, and for the environment.
Tips & Benefits: 
SPF 40
Broad Spectrum UV Protection
Ultra-hydrating formula for healthy skin.
Works for all skin types, and skin tones.
Glowy finish, dewy skin.
Clean of harsh chemicals, and cruelty-free.
Reef safe.
A superior product from a professional skin care expert and spa.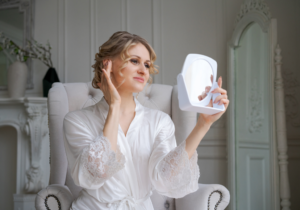 Welcome, beauty enthusiasts and skincare aficionados, to the Bella Reina Beauty Bonanza! Join me as we embark on an exciting journey through the world of Bella Reina's premier skincare products, carefully crafted to unveil your inner radiance.  If you're on a quest for timeless beauty and age-defying brilliance, you've come to the right place. Bella […]