WHY You'll LOVE THIS
A Therapeutic Grade Essential Oil Blend  providing an atmosphere of peace and relaxation.
Formulated with Calming and comforting oils like Lavender, Mandarin, Marjoram, Sandalwood and Palo Santo.
All of our Essential Oils are high quality, organic, and therapeutic grade.
Ingredient Benefits:
Lavender Essential Oil – Sedative, calms nervous anxiety; calms the heart and soothes a restless, hyperactive state. Helps to counteract anxiety, irritability, nightmares, restlessness.
Mandarin Essential Oil and Petitgrain Essential Oil – Sweet and loving; ideal for children's restlessness, anxiety and lack of sleep.
Sweet Marjoram Essential Oil – Its clean and uplifting aroma will sharpen the senses.
Palo Santo Essential Oil – It invokes a feeling of sacredness as in entering a temple; quiets the mind from mundane thoughts; and has a purifying effect on the mind.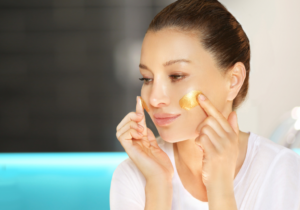 Are you tired of scrolling through endless TikTok skincare hacks, only to be left wondering if they actually work? From DIY sheet masks to chemical exfoliators, the internet is buzzing with ageless skincare advice. In this blog post, we'll debunk common skincare myths and validate some ageless skincare hacks that truly deliver. Buckle up for […]