Skin Script Raspberry Cleanser
WHY You'll LOVE THIS
Skin Script Raspberry Cleanser is your direct route to long term clear skin!
This foamy cleanser's powerful ingredients includes 2% salicylic acid and 2% glycolic acid.  And these acids penetrate the pores to assist in relieving  blackheads and acne.
So it's great future break-out prevention for your skin.
It also contains protective anti-oxidants.  And Tea Tree oil soothes and calms the skin.
Clogged pores are cleared  and excess oil is removed. In addition, dead  skin is exfoliated. So you'll have a fresh and vibrant complexion. And fewer blemishes.
A refreshing  cleanser that deep cleans, and improves skin texture.  The skin looks "silky" and smooth.
Your face will look more youthful and bright. And clear.
Tips & Benefits:
Suitable for normal, combination, oily and acneic skin.
Great for problematic and oily skin.  A unique acne-control  cleanser.
Skin Script Raspberry Cleanser is also ideal for teenage skin because it prevents breakouts and clears acne. Your teen will thank you!
And it's safe for vegan use.
In addition, the cleanser calms and soothes the skin.
Collagen is stimulated which helps fight aging skin.  Skin looks bright and smooth.
A little goes a long way. Massage a small amount into the skin prior to your toner.
And it smells so good!
Our SPA clients give "top marks" to this revolutionary product.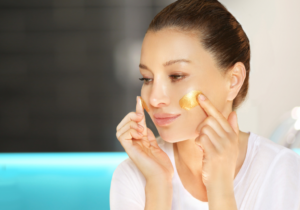 Are you tired of scrolling through endless TikTok skincare hacks, only to be left wondering if they actually work? From DIY sheet masks to chemical exfoliators, the internet is buzzing with ageless skincare advice. In this blog post, we'll debunk common skincare myths and validate some ageless skincare hacks that truly deliver. Buckle up for […]