Skin Script Glycolic Cleanser
WHY You'll LOVE THIS
Skin Script Glycolic Cleanser brightens and invigorates your skin.  Skin is renewed.
The combination of alpha hydroxy acids removes the top layer of dead skin cells.  And your complexion looks vibrant.
Glycolic acid promotes collagen production. So the appearance of wrinkles diminishes.  In other words, it's anti-aging!
This exfoliating,  powerful  cleanser reduces pigmentation and sun damage.  And it lightens and reduces acne scarring.
Even more, it helps loosen blackheads.  So it removes excess oil.
And it assists in balancing problematic skin, promoting clarity long-term.
Tips & Benefits
This glycolic cleanser is suitable for all skin types  (except rosacea and sensitive skin).
It's gel-based. And a little goes a long way.
In addition, you'll have less frequent breakouts and a clearer complexion.apply a dime-size amount o
The glycolic cleanser lessens the appearance of scars and wrinkles. So skin looks more youthful.
And it brightens and invigorates the skin.
Hydration is boosted. So your face feels soft and looks smooth.
And your makeup should be removed prior to using your Skin Script Glycolic Cleanser.
At our Spa, our estheticians recommend removing makeup with a creamy cleanser, then mix a dime size  of the glycolic cleanser with a drop of water in your hand. Then apply to face.
Use once per day.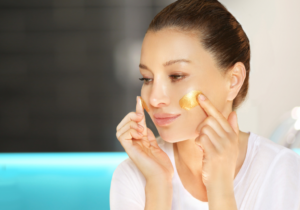 Are you tired of scrolling through endless TikTok skincare hacks, only to be left wondering if they actually work? From DIY sheet masks to chemical exfoliators, the internet is buzzing with ageless skincare advice. In this blog post, we'll debunk common skincare myths and validate some ageless skincare hacks that truly deliver. Buckle up for […]