Skin Script Glycolic Acid and Retinol Wipes
 WHY You'll LOVE THIS
Skin Script Glycolic Acid Wipes with Retinol lighten dark spots and pigmentation for a more even skin tone.  Provides a brighter and clearer complexion.
The wipes dissolve oil, so you"ll have fewer skin breakouts in the future.
The surface of your skin renews because of improvement to cell turnover.  So the skin's texture is smoother and looks healthy.
And pores unclog. Oil and debris are removed.  Skin is lightly exfoliated.
The active ingredients (please see the ingredients tab!) also boost collagen production. Skin is firmer. So the size and appearance of wrinkles and fine lines reduces.
The skin is gently and progressively "renewed" with regular use.
Tips & Benefits
Skin Script Glycolic Acid Wipes with retinol are suitable for all skin types and conditions.
The pads are especially helpful for problematic and oily acne-prone skin types.
Excess dirt and oil is removed.
Very effective for mature and aging  skin.
Dark spots lighten.
And the pads are very convenient.
Future breakouts  lessen.
Because the appearance of pigmentation spots are brightened, you'll have a vibrant and  more even skin tone.
Use a Skin Script Glycolic Retinol Wipe on the face, neck and chest areas after cleansing. Follow up with your preferred serum and moisturizer.
Our Spa estheticians advise clients to keep wipes with them so that they may clean and freshen anytime. This product receives "top marks" from our clients!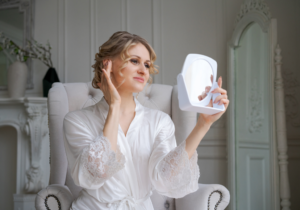 Welcome, beauty enthusiasts and skincare aficionados, to the Bella Reina Beauty Bonanza! Join me as we embark on an exciting journey through the world of Bella Reina's premier skincare products, carefully crafted to unveil your inner radiance.  If you're on a quest for timeless beauty and age-defying brilliance, you've come to the right place. Bella […]