WHY You'll LOVE THIS
Skin Script Cucumber Toner locks in moisture and keeps contaminants out.
Your skin is infused with rich moisture.
And it's anti-aging. Hyaluronic acid plumps the skin.  And cellular function improves.
Cucumber soothes (smells great!)  and cools irritated skin.  Our Spa clients love the light scent. It's outstanding!
In addition, the  toner helps to remove excess dirt, traces of oil and makeup. In other words, it thoroughly cleans the skin.
It helps to control acne and assists in removing dead skin cells.
And it can minimize the appearance and size of pores.
Tips & Benefits
This cucumber toner is suitable for all skin types.
It's really helpful for  inflammation and  dehydrated skin.
And you can use Skin Script Cucumber Toner as a setting spray or to refresh your face.  Just mist it over your makeup.
Keep a bottle in the fridge for cooling moisture- so rejuvenating.
It reduces discomfort and  irritation, usually on contact.
Apply after cleansing.  Any leftover makeup and excess oil will disappear. Follow with your preferred serum/moisturizer.
You'll love the additional moisture and the fabulous scent!
Above all, a toner is an important piece to add to your skincare routine to maintain clear and healthy skin.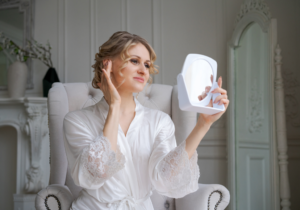 Welcome, beauty enthusiasts and skincare aficionados, to the Bella Reina Beauty Bonanza! Join me as we embark on an exciting journey through the world of Bella Reina's premier skincare products, carefully crafted to unveil your inner radiance.  If you're on a quest for timeless beauty and age-defying brilliance, you've come to the right place. Bella […]