WHY You'll LOVE THIS
Skin Script Blemish Treatment is a fast-working skin spot treatment to heal and alleviate breakouts.
Glycolic and Salicylic acids assist in drying oil and also resurface skin texture.  Skin looks smoother!
And the treatment targets inflammation and bacteria that causes acne blemishes.  So  it reduces the frequency of breakouts.
It heals and calms active breakouts.  And exfoliation reduces wrinkles and give the skin a polished look.
The skin's hydration levels improve.
In addition, this blemish treatment limits scarring and dries up breakouts without damaging the skin.
Tips & Benefits:
This effective spot treatment is recommended for oily, acneic and impure skin. And it's safe for teens.
Use Skin Script Blemish Treatment 3-4 times a day to speed healing and clear imperfections.
Because it's often a "quick fix",  carry it with you and use at the first sign of a breakout.
Use over your makeup.
And  it does not dry out the skin.  It  limits scarring and reduces redness and discolorations.
And a little goes along way.
Most importantly,  At our SPA , clients with acneic skin  have noted that when this blemish treatment is used at the first sign of a breakout, healing has happened within a day or two and sometimes even overnight.
Here's to your clear and healthy skin!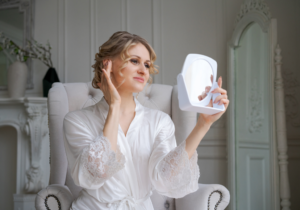 Welcome, beauty enthusiasts and skincare aficionados, to the Bella Reina Beauty Bonanza! Join me as we embark on an exciting journey through the world of Bella Reina's premier skincare products, carefully crafted to unveil your inner radiance.  If you're on a quest for timeless beauty and age-defying brilliance, you've come to the right place. Bella […]