Rezenerate Nano Technology Facial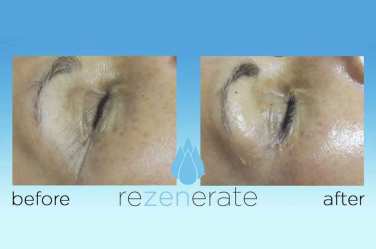 New technology – the rezenerate – is now available at Bella Reina Spa.
There comes a time when we want to know if it really really works. Nothing prepared us for the amazing and outstanding results of the Zen Nano-Tech Facial.
The Rezenerate Facial is now available at Bella Reina Spa.
There comes a time when we want to know if it really really works. Nothing prepared us for the amazing and outstanding results of the Zen Nano-Tech Facial Putting it mildly. This facial is a game-changer. We've been using this modality and have seen significant positive changes in our clients' skin.
Best of all, the changes improve from month to month. And depending on the results that you are looking for, it works for every skin condition.
Yes…. Clients leave with glowing skin that day, while a few may be red for a couple of days. To learn more about the Rezenerate facial, keep reading!
What is Rezenerate?
Rezenerate is a wand that has a nanotechnology tip. The tip or cartridge has a silicon chip. The chip features nano-technology that allows our estheticians at Bella Reina to focus on fine lines, wrinkles, blemishes, pigmentation/uneven skin tone, and other skin conditions. The Rezenerate works for great results!
It's the best facial for someone who wants great results without the pain. It's also a non-invasive facial treatment! Some people will say it's similar to micro-needling. It is really nano-needling.
For maximum results, we combine the treatment with a 24K Gold Collagen Mask. Other options are available for maximum results. The Zen Nano-Tech Facial can be combined with Dermaplaning, Ultrasonic Microdermabrasion (aka crystal-free), Celluma LED, or Microcurrent. Any of these additions or combinations only maximize the results.
About the Rezenerate Wand
The Rezenerate wand uses high, medium, and low settings to allow a specific area or skin condition to be focused on specifically with the correct strength. The silicon chip creates channels in the top layers of skin that allows the serums to penetrate.
The rezenerate wand can be used for faces, neck, hands and any area needed skin rejuvenation.
Who is the Perfect Candidate for the Rezenerate Facial?
Anyone that wants their skin to look amazing, wants fast results and little or no downtime. The rezenerate facial is a non-invasive treatment that is amazing for achieving glowing skin, those who want even skin tone and texture, and an amazing antiaging facial. Of course, if you have a question about whether this treatment is good for you, a skin consultation with your esthetician is always recommended.
Because of the specialty peptide and hyaluronic serum that we use (aka Instant Lift), you will immediately feel a lift and the skin can feel tighter. The more treatments, the better the results.
What does a Zen Nano Technology Facial correct?
Fine lines and wrinkles

Blemishes

Dehydrated Skin

Malnourished Skin

Sunspots and age spots

Oily skin or dry skin
What to expect after a Rezenerate Facial(aka Zen Nano-Tech Facial)
Day 0-2: Skin will feel tighter and plumper. Clients tell us they feel years younger. In the days following, we advise you to make sure that you apply a serum with lipids like our Flawless Drops throughout the day. No harsh cleansers or treatments should be used. Some clients may have a little redness or feel tingling.
Days 3-5: The skin may feel drier as if you have had a lactic peel. This is very normal.
Days 7-14: The Zen Nano-Tech Facial can be repeated every 2 weeks for rejuvenating the skin.
For more information or to make an appointment, call the spa at 561-404-7670.
I've been called Nancy Reagan, the First Lady of Skin Care. And if you are old enough to remember former President Ronald Reagan, I'm also known as "NOT THAT" Nancy Reagan.
I believe strongly that the outer skin glow comes from within and that nutrition is an integral part of great skincare. Based on that philosophy, I started Bella Reina Spa, which is recognized as the Best Day Spa in North America with a team of 17 estheticians, massage therapists, and natural nail technicians. The Bella Reina website offers extensive knowledge on products, spa services, and beauty shopping, with a strong focus on vegan and cruelty-free beauty. Welcome to Bella Reina Spa! We look forward to helping you look and feel your best.