Purelift Face Muscle Microcurrent
Purelift Face Muscle Stimulation Device – Achieve Firmer, Younger-Looking Skin
Purelift Face: The Revolutionary Face Muscle Stimulation System for Smoother, More Radiant Skin is just like the same microcurrent devices we use at the spa, except the battery pack is not quite as big. If you want to lift your facial muscles giving yourself a more youthful face in 10 minutes, PureLift Face is the premier FDA-cleared non-invasive facial elevation and sculpting tool on the market. With patented muscle stimulation, PureLift Face will help train thousands of small muscle fibers for a fresher and more youthful look. Consider this your ultimate anti-aging solution.
The secret of PureLift® Non-invasive Facelift
PureLift Face uses its patented Triple-Wave Technology, the first wave (low frequency) has an anesthetic effect, the second wave (mid frequency) works in the dermis layer, and the third wave (high frequency) reaches deep to the facial muscles. The pulses are randomized, which means the muscles can never adapt-they have to keep working, which is what brings you results.
PureLift Face is perfect for personal, daily use.
#NonInvasiveFacelift  #PureliftFacialStimulation #NaturalFaceLiftDevice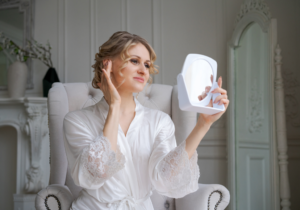 Welcome, beauty enthusiasts and skincare aficionados, to the Bella Reina Beauty Bonanza! Join me as we embark on an exciting journey through the world of Bella Reina's premier skincare products, carefully crafted to unveil your inner radiance.  If you're on a quest for timeless beauty and age-defying brilliance, you've come to the right place. Bella […]