Biodroga Micro-Dermabrasion Peel
WHY You'll LOVE THIS
Biodroga Micro-Dermabrasion Peel removes dead skin cells and regenerates the skin.
Skin can  look younger and more radiant because skin cells are renewed.
Most importantly, scars  may be less  noticeable.
Biodroga Micro-Dermabrasion Peel can  reduce the appearance of pores, fine lines and wrinkles.
Produces a smoother, more even complexion.  Refines the skin's  appearance.
So skin looks softer and refreshed.
Tips & Benefits:
Skin cell  renewal  activates with Biodroga Micro-Dermabrasion Peel.
Improves the skin's appearance,  resulting in  a smoother, more even complexion.
Fine lines and wrinkles may  diminish and scars and pores can be less noticeable.
Skin may appear  smoother, more radiant and youthful.
Use Biodroga Micro-Dermabrasion Peel at night.
Normal skin use – 3 x weekly;  every other day on oily skin; once a week on sensitive skin.
But do not use on damaged or inflamed skin.
Following usage, all skin types benefit from using this soothing lotion.
Spa and estheticians like and recommend using both products.
Result in a refreshed, radiant complexion with Biodroga Micro-Dermabrasion Peel.
For more information on exfoliation, learn more here.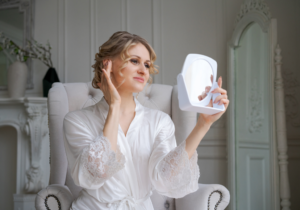 Welcome, beauty enthusiasts and skincare aficionados, to the Bella Reina Beauty Bonanza! Join me as we embark on an exciting journey through the world of Bella Reina's premier skincare products, carefully crafted to unveil your inner radiance.  If you're on a quest for timeless beauty and age-defying brilliance, you've come to the right place. Bella […]