PHYRIS Hydro Active Hyaluron Sensation Cream (Moisturizer)
 Reduce Fine Lines for Smoother, More Youthful Skin


Deep-moisturizing with Super Long Lasting Protection against Skin Dehydration.
Contains timed-release hyaluronic acid  that instantly provides moisture.
Kate H. LOVES
WHY You'll LOVE THIS
A new generation of deep-moisturizing active care with lasting protection against renewed dehydration of the skin.
Contains a special timed-release hyaluronic acid  that instantly provides maximum moisture and maintains this effect for several hours, leaving the skin feeling fresh and plumped.
Fine lines caused by dryness are reduced and the skin looks smoother and more youthful.
Tips & Benefits:
To support and enhance, first apply a Hyaluron Sensation Cap
24-hour intensive care that provides the skin with a particularly long-lasting moisture depot
Banishes feelings of tightness caused by moisture deficits.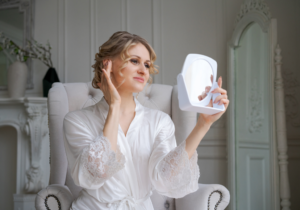 Welcome, beauty enthusiasts and skincare aficionados, to the Bella Reina Beauty Bonanza! Join me as we embark on an exciting journey through the world of Bella Reina's premier skincare products, carefully crafted to unveil your inner radiance.  If you're on a quest for timeless beauty and age-defying brilliance, you've come to the right place. Bella […]