Oxygen Damage Control Night Cream
Damage Control™ harnesses the power of oxygen with Max-OX ComplexTM in combination with Aloe Vera, Sodium Hyaluronate, Allantoin, Bisabolol and Panthenol to provide maximum hydration, and to support, soothe and calm the skin.
A night cream  – it works in perfect combination with Cell Fuel. The skin's systems naturally repair at night which is when Damage Control is best used for totally ageless skin.
INGREDIENTS
Max-OX Complex™: our proprietary blend of molecular oxygen absorbing and infusing compounds.
Squalane: Helps restore the skin's natural moisture barrier to improve hydration while transporting anti-oxidants and nutrients into the skin.
Allantoin: Helps increase the skin's ability to absorb water while gently exfoliating for a calm, hydrated complexion.
Bisabolol: Limits the release of pro-inflammatory mediators, soothing the skin.
Aloe Vera: Rich in vitamins and minerals, aloe vera moisturizes, soothes and helps calm inflammation.
Sodium Hyaluronate: Combines both high and low molecular weight hyaluronate to most effectively penetrate the skin barrier, allows essential moisture and hydration to be drawn into the skin for a radiant complexion.
Use with Cell Fuel Oxygen Morning Cream.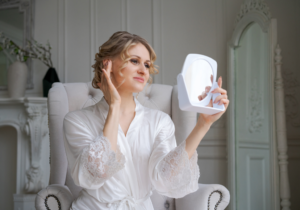 Welcome, beauty enthusiasts and skincare aficionados, to the Bella Reina Beauty Bonanza! Join me as we embark on an exciting journey through the world of Bella Reina's premier skincare products, carefully crafted to unveil your inner radiance.  If you're on a quest for timeless beauty and age-defying brilliance, you've come to the right place. Bella […]