Oxygen Cell Fuel Age Delay Cream
Cell Fuel™ harnesses the power of oxygen with Max-OX ComplexTM in combination with Vitamin C, Tranexamic Acid, Shea Butter and Peptides to provide antioxidant support, help promote cellular turnover, brighten skin and reduce the appearance of fine lines and wrinkles.
A morning light cream to be used prior to sunscreen like Supergoop. At night use with the Damage Control Cream.
INGREDIENTS
Max-OX Complex™: Our proprietary blend of molecular oxygen absorbing and infusing compounds.
Peptides: To relax skin muscles and boost collagen synthesis diminish visible fine lines and wrinkles and helps restore elasticity and suppleness for a revitalized complexion.
Tranexamic Acid: Helps inhibit sun damage and evens pigmentation to brighten the appearance of the skin.
Ester of Vitamin C: Provides anti-oxidant support, protects the skin against free radical damage.
Camellia Oleifera: Rich in essential fatty acids, polyphenols and Vitamin E. Supplies intensive anti-oxidant benefits for anti-aging and rejuvenating effects.
Use with Damage Control Night Cream from Oxygen Labs.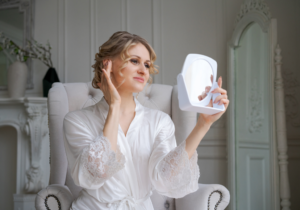 Welcome, beauty enthusiasts and skincare aficionados, to the Bella Reina Beauty Bonanza! Join me as we embark on an exciting journey through the world of Bella Reina's premier skincare products, carefully crafted to unveil your inner radiance.  If you're on a quest for timeless beauty and age-defying brilliance, you've come to the right place. Bella […]