Does an Organic Face Wash Make a Better Cleanser?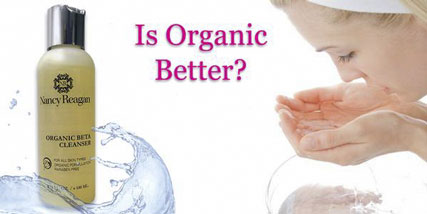 When you go to purchase a facial cleanser, is an organic face wash really better for your skin? The answer is yes and no. It really depends on what ingredients are in the cleanser. Just because it is organic, everyone seems to think that it's clean from harmful ingredients. But that is not always true. There are some key benefits to using an organic face wash. Let's start first with the ingredients. 
The key ingredients in any cleanser that really works includes some kind of agent to remove dirt. Without it, the dirt, makeup and toxins will simply get circulated on top of the skin. In order to actually clean the skin without harming the skin's natural protective barrier, your cleanser will need a "suds" maker.  Some organic facial cleansers only contain oils like jojoba oil or grape seed oil. The oils are the carriers for the botanical extracts. Both oils are fabulous for dissolving oil (yes, oil dissolves oil).  As a cleanser, they are just not up to the standards of what you need for your skin to be cleansed properly. 
Best Organic Face Wash
The best organic face wash has an organic formulation,and has the strength to absorb oil, dirt and bacteria at the same time.  There is not a single cleanser that is perfect for every skin type. Finding the right cleanser for your skin type can be trial and error. Some key tips to look for that make an organic face wash better than a regular facial cleanser are the following:
Nancy's Tips
Does Not Cause Irritation or Dryness -Organic Face Cleansers do not cause irritation, especially to sensitive skins. Regular cleansers contain harsh foaming agents that can cause irritation, dryness and redness.
Does Not Over Strip the Skin of Natural Oils – Organic washes if created correctly will cleanse the skin without stripping all of the natural oils. The skin should feel soft and supple, not dry. Regular cleansers and soap bars can remove oil from the skin, but they can over strip the skin of oil and hurt the skin. As estheticians, we see skin that is not properly cleansed. Usually it is from using a cleanser that is over drying or one that does not have enough strength.
Works to Unclog Pores and Remove Dirt An Organic Face Wash, especially one created with salicylic acid, will clear the dead cells, unclog pores and work to remove the sebum from the pores. Natural cleansers like vinegar, baking soda, honey, or oatmeal are great for a cleaning skin that does not have makeup, dirt or oil.  Natural cleansers also don't have the ability to fight bacteria if you have acne like a salicylic acid cleanser.
One thing to remember when looking for a great facial cleanser is to know your skin type. If your skin is normal, or oily or acne prone, you will need a cleanser that is up to the job. The best organic face wash that we have found is the Bella Reina Skin Care Organic Beta Facial Cleanser for #bellaskin.
I've been called Nancy Reagan, the First Lady of Skin Care. And if you are old enough to remember former President Ronald Reagan, I'm also known as "NOT THAT" Nancy Reagan.
I believe strongly that the outer skin glow comes from within and that nutrition is an integral part of great skincare. Based on that philosophy, I started Bella Reina Spa, which is recognized as the Best Day Spa in North America with a team of 17 estheticians, massage therapists, and natural nail technicians. The Bella Reina website offers extensive knowledge on products, spa services, and beauty shopping, with a strong focus on vegan and cruelty-free beauty. Welcome to Bella Reina Spa! We look forward to helping you look and feel your best.