WHY You'll LOVE THIS
It's all about the eyes!
Let your eyes do the talking with our favorite spa eye makeup products for a special price!
RapidLash Eyelash Enhancing Serum:
Perfect to strengthen and lengthen your lashes.
For those with weak, brittle, thin, or short lashes, or if you just want absolutely fabulous lashes!
Your lashes will be strong and long, no more falsies.
Bella Reina Hypoallergenic Masacara:
This mascara is perfect for those with sensitive eyes, due to its hypoallergenic formula.
It has a clump-free, smudge-free, and water-resistant formula.
It repairs lashes while giving your lashes a beautiful volume.
Bella Reina Brow Tint Mascara: 
A multi-tasking 2-in-1 mascara with biotin!
It grooms your brows and adds color, all in one application.
Biotin helps your brows be healthy and full.
Tips & Benefits: 
Elevates your eye make-up
Helps your eyebrows and lashes stay healthy and full.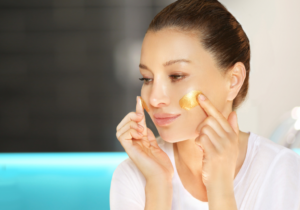 Are you tired of scrolling through endless TikTok skincare hacks, only to be left wondering if they actually work? From DIY sheet masks to chemical exfoliators, the internet is buzzing with ageless skincare advice. In this blog post, we'll debunk common skincare myths and validate some ageless skincare hacks that truly deliver. Buckle up for […]