WHY You'll LOVE THIS
Gehwol Med Lipidro Foot Cream compensates for the lack of lipids & moisture and naturally balance the protective properties of the skin.
Urea binds water in the deep skin layers while Calluses are softened and excessive reformation is reduced.
Sea buckthorn oil and avocado oil with a high amount of unsaturated fatty acids supply dry, thirsty skin with the lipids it lacks and prevents the loss of moisture through evaporation.
The cream also helps protect against itching and fungal infections.
Tips & Benefits:
Gehwol comes from the German translation "WALK WELL" and is one of the most popular and trusted companies on the foot care products market today.
Taking care of your feet should be a priority especially if you are diabetic.
You can trust Gehwol products 100%.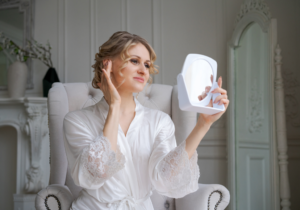 Welcome, beauty enthusiasts and skincare aficionados, to the Bella Reina Beauty Bonanza! Join me as we embark on an exciting journey through the world of Bella Reina's premier skincare products, carefully crafted to unveil your inner radiance.  If you're on a quest for timeless beauty and age-defying brilliance, you've come to the right place. Bella […]