Environ Youth+ Frown Serum

" An amazing improvement to my frown and  forehead lines. I call this serum 'friendly' botox." –  Lou R. VIP Client
Stop frowning and start smiling! Environ Frown Serum is a safe, non-invasive alternative to Botox.  Softens muscle activity around the eyes and forehead. Lines and wrinkles are minimized.
WHY You'll LOVE THIS
Environ Frown Serum has special wrinkle-fighting peptides.
They work in conjunction with each other to soften muscle activity around the eyes and forehead.
And collagen production is increased.
Therefore "expression lines"– wrinkles, crow's feet and frown lines may be visibly softened
Can  produce amazing results when used regularly.  The softening of forehead furrows is noticeable.
And  deep frown lines look  greatly minimized.
This serum targets the same mechanisms as a botox treatment but in a safer, milder way.
And your skin looks refreshed, healthier and more youthful.
Tips & Benefits
Recommended for all skin types.
And Environ Frown Serum is formulated to specially treat mature and aging skin.
Above all, tired-looking skin becomes  refreshed.
And results are definitely noticeable with regular use.
For instance, fine lines and wrinkles may be visibly reduced.
Most importantly, our SPA clients have noticed positive changes very quickly.
Use morning and evening in addition to your regular skincare regimen.
Massage 1-3 drops  into the skin, followed by your preferred Environ moisturizer.
Our SPA estheticians  recommend a professional consultation before using this product.
Please see ingredients tab for important information about Environ Frown Serum and counterfeit products.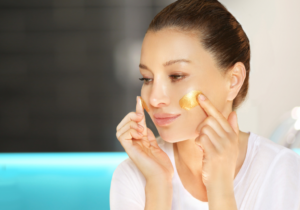 Are you tired of scrolling through endless TikTok skincare hacks, only to be left wondering if they actually work? From DIY sheet masks to chemical exfoliators, the internet is buzzing with ageless skincare advice. In this blog post, we'll debunk common skincare myths and validate some ageless skincare hacks that truly deliver. Buckle up for […]