The Environ Youth EssentiA Vita-Peptide Toner is specially formulated to assist other Environ products. Together, they can create beautiful, youthful-looking skin. Youth EssentiA is formerly the C-Quence line.
WHY YOU'LL LOVE THIS
The Vita-Peptide is a concentrated toner that contains a combination of peptides that has fabulous benefits for the skin.
It helps reduce the appearance of wrinkles, for a smoother complexion.
It improves the appearance of skin over time.
This toner also helps remove makeup and improves uneven skin tone and elasticity.
Your skin will have a radiant glow,
TIPS & BENEFITS:
It balances the PH levels of the skin.
Contains antioxidants that help improve skin health.
Keeps the skin hydrated for a healthy-looking radiant glow.
Improves the skin tone, and helps with blemishes.
Please see the ingredient tab listing for important information about Environ Skin EssentiA Antioxidant & Peptide Eye Gel Counterfeit Products.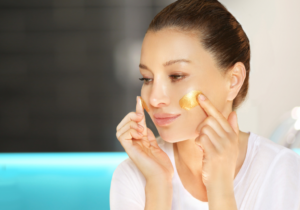 Are you tired of scrolling through endless TikTok skincare hacks, only to be left wondering if they actually work? From DIY sheet masks to chemical exfoliators, the internet is buzzing with ageless skincare advice. In this blog post, we'll debunk common skincare myths and validate some ageless skincare hacks that truly deliver. Buckle up for […]