Environ Youth EssentiA Vita-Peptide Eye Gel (C-Quence)
"This product really turns back time! The lines around my eyes have almost disappeared." – Allison Y.  VIP client
A revolutionary product, Environ Vita Peptide Eye Gel (C-Quence) hydrates the skin and combats fine lines and wrinkles. It makes the skin look younger and protects collagen.
Seriously. In our opinion.
The best Eye Gel in the World.
Environ Vita-Peptide Eye Gel (formerly known as C-Quence Eye Gel) contains antioxidants, essential vitamins, and selected peptides. Part of Environs Youth EssnentiA line, it hydrates and firms the delicate eye area.
And this new version contains five natural aminos, plus peptides Argireline, Matrixyl, and Dermaxyl, Vitamins A, C & E, and a new Hyaluronic Acid which all have been scientifically proven to combat the appearance of wrinkles.
Because it penetrates deeply into the eye area, skin looks younger. And you can apply it to the entire eye area!
And it assists in improving sun-damaged skin.
The appearance of fine lines is minimized.
Skin looks younger for longer.  Most importantly, fine lines may not reappear.
Regular usage of Environ Vita Peptide Eye Gel (C-Quence) protects collagen.   Ingredients include Vitamin A, C, and E plus Rosemary and Soybean Extracts to help hydrate and smooth the eye area.  So the eye area achieves a radiant glow.
Facialists and certified estheticians are available for an Environ skincare consultation and facials. One of the most powerful anti-aging skincare lines, it is recommended that you consult with a specialist prior to beginning any new regimen.
Tips & Benefits:
Helps to reduce fine lines and wrinkles.  And often they don't reappear!
The eye area looks radiant with consistent use of Environ Vita Peptide Eye Gel (C-Quence).
Use morning and night for maximum benefit.
Vitamins A, C, and E help the delicate eye area skin appear firmer.
It rehydrates and refreshes the skin.
Sun damage is improved because of the specially selected ingredients.
Deep penetration helps protects the all-important collagen.
And in addition, it "plumps up" the skin.
Assists in making the skin look younger.
In addition, it revitalizes and refreshes.
You'll like this effective anti-aging product.
Please see the ingredient tab listing for important information about Environ Vita Peptide Eye Gel and Counterfeit Environ products.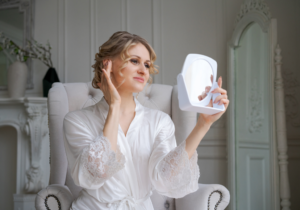 Welcome, beauty enthusiasts and skincare aficionados, to the Bella Reina Beauty Bonanza! Join me as we embark on an exciting journey through the world of Bella Reina's premier skincare products, carefully crafted to unveil your inner radiance.  If you're on a quest for timeless beauty and age-defying brilliance, you've come to the right place. Bella […]