WHY You'll LOVE THIS
Award-winning Environ  Colostrum Gel is one of the most popular anti-aging products of the Environ Intensives Range.
It contains bovine colostrum, vitamins and antioxidants,  including vitamin C, vitamin E and green tea.
Colostrum helps to enhance the skin's immunity by strengthening and calming.  It's a wonderful aging prevention.
Even more, it improves the appearance of problematic skin by reducing inflammation, redness and irritation.
And most importantly, it assists in preventing breakouts on skin that is prone to acne.
Because it's deep penetrating and moisturizing, it reduces  fine lines and wrinkles. Collagen and elastin production are increased.
Therefore skin looks smoother, more youthful and healthy.
Tips & Benefits
Environ Colostrum Gel is suitable for all skin types, including sensitive, mature and problematic skin.
And because  it has a pleasant light lavender fragrance, it's calming!
Reduces the appearance of fine lines and wrinkles. And it tightens and smooths the skin.
Even more, valuable moisture nourishes the skin for a youthful appearance.
In addition, Colostrum's effects are noticeable in a short period of time.
And you can use the gel with any of the Environ ranges.
Use sparingly twice a day after pre-cleansing, cleansing  and toning with your preferred Environ products. Follow with your moisturizer.
Please see ingredients tab for important information about Environ Colostrum Gel and counterfeit products.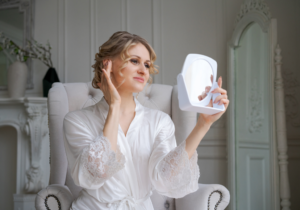 Welcome, beauty enthusiasts and skincare aficionados, to the Bella Reina Beauty Bonanza! Join me as we embark on an exciting journey through the world of Bella Reina's premier skincare products, carefully crafted to unveil your inner radiance.  If you're on a quest for timeless beauty and age-defying brilliance, you've come to the right place. Bella […]