Environ Skin EssentiA Vita-Antioxiodant AVST 3 Moisturizer
WHY You'll LOVE THIS
Environ AVST 3 provides long lasting moisturization – your skin will feel hydrated all day long.
A medium-high level of of vitamin A, plus vitamin C and other powerful  antioxidants help to maintain a youthful -looking  appearance.
It's excellent for all skin types.  And it's particularly effective for mature and sun damaged skin.
Most importantly, this unique emulsion encourages the manufacturing of healthy elastin and collagen.
And it's suitable for all ages.
In addition, it minimizes fine lines and wrinkles.
Because the discoloration of the skin is improved, the skin tome looks more even.
Tips & Benefits
The signs of aging are minimized by using Environ AVST 3 every day.
Fine lines soften.  And dryness lines  "pump  up".
This moisturizer penetrates deep into the skin to hydrate and restore.
You'll will have a more even skin tone. And  your skin will look healthy and refreshed.
Your face will feel softer and look more radiant. So you'll have a more youthful appearance.
For maximum product benefits,  the skin care professionals at our Spa recommend having a consultation with your esthetician.
Please see Ingredients Tab for important information about Environ AVST 3 and Counterfeit Products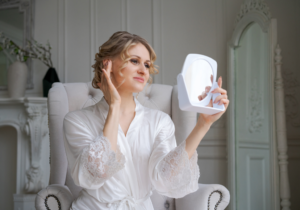 Welcome, beauty enthusiasts and skincare aficionados, to the Bella Reina Beauty Bonanza! Join me as we embark on an exciting journey through the world of Bella Reina's premier skincare products, carefully crafted to unveil your inner radiance.  If you're on a quest for timeless beauty and age-defying brilliance, you've come to the right place. Bella […]