Clear Brow Gel | The Secret of Power Brows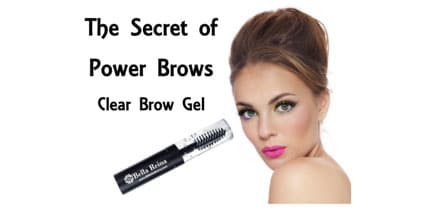 The secret of the ever popular "power brow" is Clear Brow Gel. Eyebrows play an important part in how your face will appear. Any distortion of them whether too thin or thick can affect your entire facial expression. Plus, a scattered eyebrow can also ruin your appearance. This is the reason why you should know how to shape your eyebrows. This way they will suit to the kind of profile your face has.
We've never been fond of eyebrow lining techniques, because most people draw a line and never blend it in. But liners cannot tame brows, enter stage right – the clear brow gel. This is especially true if your eyebrows are really unruly, with hairs scattering over. Trimming them or plucking the excess hair can be your option, but it will be quite a hassle on your end in the long run considering how fast these hairs grow. If this is the case, make use of clear brow gel to help you get the right shape that stays in place all day and night..
Why use a Clear Brow Gel?
So what is a brow gel? As its name implies, it is a kind of gel. (no kidding)  It is formulated to position and set brow hairs in the exact place. It is also an effective alternative to trimming, plucking, or shaving. Basically, this topcoat for brows is really a must for any makeup kit considering the flexibility and convenience it gives to you in enhancing your beauty and appearance. Unlike with just a regular eyebrow liner, a brow gel helps you tamed wild brows, lock in hairs in one place, and pump them up to give you many options on how will you set them to your liking.
The great thing is the fact that it can be used as a mascara substitute to help your lashes exude a darkened and silky appearance giving you an exquisite look. So, if you want to save money while not compromising your beauty, you can have a clear brow gel applied both for your brows and lashes.
Interestingly enough, men can also find brow gel beneficial to them. Most of the time, men have very thick brows, caused by scattered hairs. While it can be so awkward for men to pluck or trim down their brows, setting them to their desired direction and thickness using a brow gel is a perfect option. This way, they can do away with their excess hairs without the need to pluck them out or trim them down.
In conclusion, a clear brow gel is indeed a must-have for any makeup kit. Whether it's makeup for women or men, the universality makes it an indispensable item. So if you don't have this item with you yet, might as well grab one immediately. Be sure to choose the one with hair health-benefiting ingredients. Click here for more information!
I've been called Nancy Reagan, the First Lady of Skin Care. And if you are old enough to remember former President Ronald Reagan, I'm also known as "NOT THAT" Nancy Reagan.
I believe strongly that the outer skin glow comes from within and that nutrition is an integral part of great skincare. Based on that philosophy, I started Bella Reina Spa, which is recognized as the Best Day Spa in North America with a team of 17 estheticians, massage therapists, and natural nail technicians. The Bella Reina website offers extensive knowledge on products, spa services, and beauty shopping, with a strong focus on vegan and cruelty-free beauty. Welcome to Bella Reina Spa! We look forward to helping you look and feel your best.