WHY You'll LOVE THIS.
Biodroga Skin Lotion is a gentle facial toner and is suitable for all skin types.
First of all, it makes the skin feel thoroughly cleansed and gently removes any residues.
Above all, it adds moisture during the cleansing process. 
Because it is gentle and alcohol free, it's outstanding for dry and sensitive skin.
Even more,  this toner helps to strengthen the skin's defense mechanism against harmful environmental influences.
And skin feels rejuvenated; looks more radiant.
Tips & Benefits:
Biodroga Skin Lotion is perfect for the final stage of your cleaning ritual.
It smoothes and refreshes the skin.
And it breaks down dirt, oil and other impurities on the skin.
Biodroga Skin Lotion is known to soothe light irritations. It's gentle, alcohol free and excellent for sensitive skin.
Therefore, it's the perfect  follow-up product to Biodroga Power Moist Mask | Normal, Dry, Rosacea
It will make your  skin feel deeply cleansed –  into the pores.
So your skin will feel refreshed and revitalized. And also look more vibrant and radiant.
Protects against harmful environmental issues.
Spa Professionals recommend this product as the perfect final stage of your cleansing program.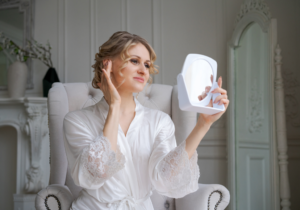 Welcome, beauty enthusiasts and skincare aficionados, to the Bella Reina Beauty Bonanza! Join me as we embark on an exciting journey through the world of Bella Reina's premier skincare products, carefully crafted to unveil your inner radiance.  If you're on a quest for timeless beauty and age-defying brilliance, you've come to the right place. Bella […]